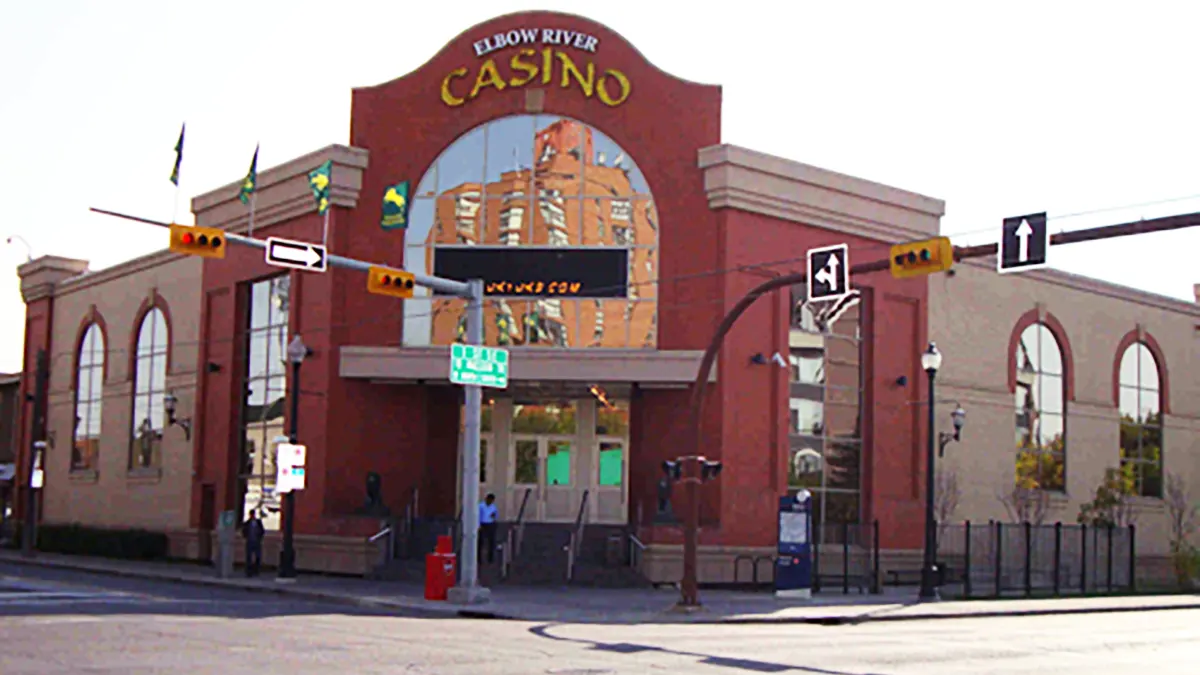 Elbow River Casino Review
Calgary is a great destination for anyone visiting the White Mountain country of Canada. Traveling 10 minutes by foot from Stampede Park, you'll find Elbow River Casino right at the heart of central Calgary. Looking for lots of fun and thrills? Taste the richness of fine dining and enjoy the buzzing casino vibe. Feeling hungry? Pick your choice of many flavor infused dishes on the menu including a delicious prawn breakfast.
If your stomach is craving for something different, grab your chop sticks and bite into some mouth watering dim sum, available weekends from 11am to 3pm. When you had your fill, it's time to put your game face on. Try your hand at a table game, branded slot machines found all over the casino floor or your choice of electronic or live dealer poker. If you have any questions or need directions, the staff is always ready and happy to help.
Elbow River Casino Floor

Elbow River Casino parking is available and it's pretty straight forward, go ahead and help yourself to the closest spot. Once you're parked, take a moment to marvel at the architecture of the 80,000 square foot modern-styled casino before stepping inside. Elbow River Casino facilitates many forms of entertainment including the Bayou Stage live music. Get your feet shaking to the sound of music, 9:30pm on Friday and Saturday nights. There are well over 600 slot machines to play on, a unique 24 hour poker experience, table games, three restaurants and even the option for off track betting. Take advantage of seasonal promotions for extra bonuses, If you're a seeker of high end slot titles then you would not have to look any further.
Other points of interest would be the live dealer baccarat, video reel games and some horse racing for good measure. These game types blend well with the excitement you will find as you navigate through the casino floor. The casino has both a welcoming and upbeat atmosphere, grab some snacks from a passing vendor, and watch the live performances booming on stage while you relax with a refreshing drink at the game.
The Amenities at Elbow River Casino

Going on a weekend trip with the family can be tricky and sometimes stressful. Planning has to be done right, this includes making the necessary reservations for staying. Any questions you may have can be answered by calling up the service desk. Don't forget to ask for assistance when on site and let Elbow River Casino hotel staff take the heavy lifting right off your shoulders. The casino is dedicated to creating a warm environment, offering comfortable lodgings for 61 rooms as well as office requirements for businesses. All rooms are air conditioned, cleaned daily and offers room service with a few bonus extras such as free local calls. The hotel also offers dry cleaning services if you need your laundry cleaned or stretch your legs at the comfy picnic area.
Deliciousness is on the plate and it's waiting for you. Order by menu and get the tastiest meals made by Elbow River Casino's top class chefs delivered straight to your room. The restaurants you can find on location are Jester's Deli for a quick filling snack, Sammy's Sports Bar to enjoy a meal with the game and Jester's Court for a full on buffet feast. Elbow River Casino operates through Alberta's charitable program. This enables the distribution of the casino's net proceeds to local worthy causes. The charitable initiatives made by the casino and Alberta falls within Calgary and in surrounding areas, AGLC licensed and approved.
Entertainment and Tournaments
The bustling night life is filled with activities you will only find at Elbow River Casino events. Promotional events and tournament come seasonally, challenging visitors and regulars at a chance to walk away with a nice bonus prize. Special events are usually communicated through postal updates. If you're a subscriber then perfect, alternatively you can check the events calendar through the online site for all of the latest entertainers and promotional content. If you're having a blast then grab your funny bones and laugh it up with the Yuk Yuk's Comedy Club.
From upcoming performers to veterans, the casino features the latest in comedic talent Canada has to offer. Changing the game you playing? No problem, you won't miss any of the entertainment since the live music on stage is right at the center of it all. Elbow River Casino has taken many aspects into consideration when planning the layout of the casino; these adjustments have been made with style, customer service and hospitality in mind. Calgary has many venues to offer when visiting. You'll know there's plenty more to enjoy beside the pristine landscapes and sweet taste of Canadian maple syrup.
What's Next: More Casinos