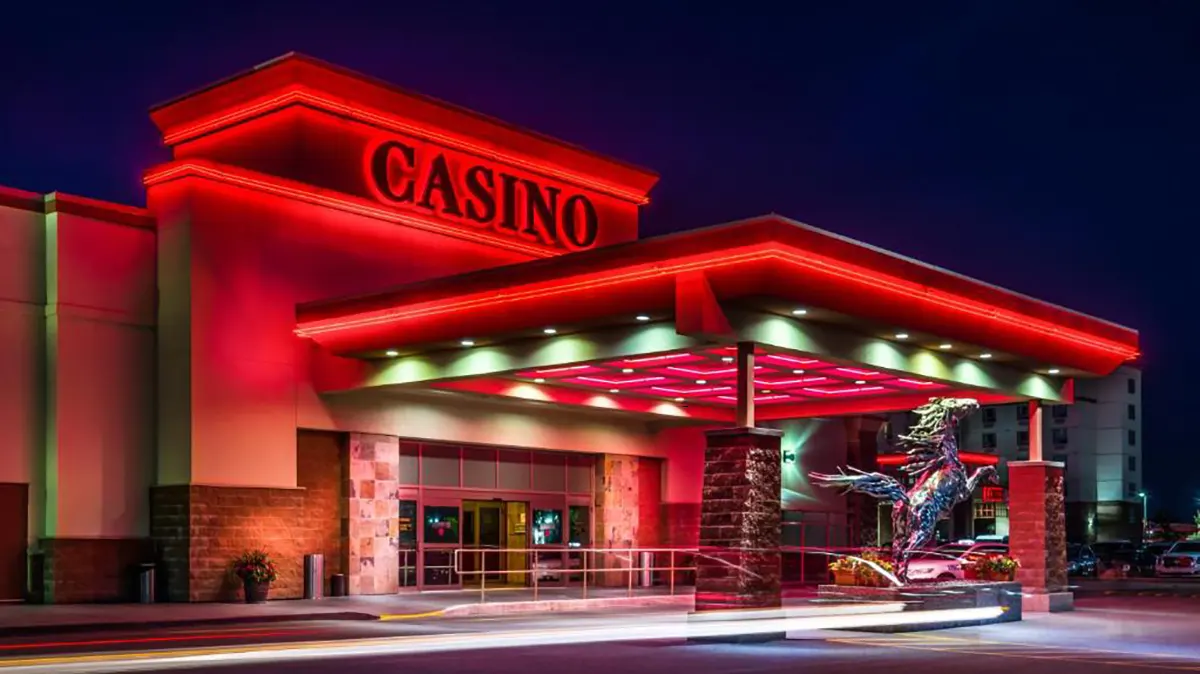 Deerfoot Inn and Casino Review
Enjoy a comfortable visit to the Deerfoot Inn and Casino and experience an exciting casino floor and plenty of deluxe guest rooms at the hotel. Being one of the premier Calgary hotel-casinos means that you'll be able to book the conference center for conventions and meetings. There's also a large indoor water park, along with four great restaurants for a wonderful dining experience. Kick back in the casino lounge and enjoy a range of showroom concerts and live entertainment.
The Deerfoot Inn and Casino also offers 24 table games, over 800 slots, a private VLT lounge offering great video lottery terminals, a replay arena, a 24/7 poker room, and a high-limit gaming facility. You'll also be able to take advantage of the Winner's Edge loyalty system which rewards you for gaming at the Deerfoot Inn and Casino. With this loyalty system, you'll earn 1 point for every $1 to $5 wagered on a slot machine and you can stand a chance to win great prizes that are exclusive to members. Some discounts can be enjoyed, with up to 10% off of particular meals.
The Deerfoot Inn and Casino Floor
The moment you step onto the casino floor at the Deerfoot Inn and Casino, you're greeted by hundreds of the best slots, with titles such as Buffalo Mix, Dragon Link, Dreams of Egypt, Zodiac Lion, King of Bling, and many more. The games are regularly updated and you can have confidence that you'll find something new with every visit. There is also a range of high-paying progressive slots such as Diamond Millions, Progressive Jackpot Fridays, Alberta Gold, and American Original.
If slots aren't your cup of tea, then try one of the table games. Here you can find Blackjack, Ultimate Texas Hold 'em, Roulette, EZ Baccarat, and Chase the Flush. If you're after a more exclusive experience, try the Poker Room, but you'll need to make a reservation, as it's always in high demand. Enjoy a high-stake round of poker, with complimentary drinks and chips, all you need to do is bring your friends.
The High-Limit Fortune Room is the pinnacle of the casino experience, as you'll experience a completely different ambiance when compared to the rest of the casino. Enjoy fine dining and world-class gaming, with popular games such as Commission Baccarat, EZ Baccarat, Blackjack, and there's also a special players menu.
The Amenities at the Deerfoot Inn and Casino
The Deerfoot Inn and Casino have a wide range of amenities such as 7 restaurants, conference rooms, spa services, fitness facilities, and an indoor waterpark.
Rooms & Suites: There's no need to leave the property when visiting the Deerfoot Inn and Casino! Book one of the many deluxe rooms and suites. There are traditional double rooms, traditional king rooms, family suites, mini-suites, business suites, business spa suites, business boardroom suites, and themed suites. The standard for each room includes a 42-inch TV, Keurig coffee machines, tea kettles, work desks, free Wi-Fi, and a stocked mini-fridge.
Spa Services: The Deerfoot Inn and Casino has spa services that range from 1 to 2-hour treatments. The most popular treatments are the 2-hour packages such as the 10,000 Petals, Chakra Recharge and Total Tranquility treatments. Each treatment has a specific purpose, but you will leave the spa feeling completely recharged. There are also spa enhancements that can be added to each treatment. These include the Eye Zone Refresh, the Foot Specialist Peeling Treatment, the Scalp Treatment, and the Mini Facial.
Water Park: This is a great amenity, especially if you're visiting the Deerfoot Inn and Casino with your kids. Here you can enjoy a refreshing swim or you can go down the two-story waterslide. The pool is quite big, so there'll be more than enough room to accommodate plenty of guests.
Gym: Just because you're on a trip away from home doesn't mean that you should abandon your health and fitness journey. At the Deerfoot Inn and Casino, you can enjoy your workout in a fully-stocked gym that features treadmills, ellipticals, bikes, weights, and more.
Restaurants and Bars: The Deerfoot Inn and Casino has a variety of restaurants to suit your cravings and dietary needs. There are take-out menus and kid's pool party menus, but if you're looking for something more exclusive, check out the Mohave Grill, the Prime Rib Buffet, the Wild Horse Pub, the Cactus Lounge, and the Island Bar.
Entertainment and Tournaments
At the Deerfoot Inn and Casino, you can enjoy a variety of live performances from local and international talent. These events usually take place in the Chrome Showroom, and the events will usually be found on the casino website along with a link to purchase tickets.
Contact Info
Website: deerfootinn.com
Phone: +1 403-236-7529
Address: 1000, 11500 – 35 Street SE Calgary, AB T2Z 3W4
What's Next: More Casinos