What's hot about: Mega Moolah
Hot! Canadian wins CA$20 Million on Mega Moolah at Zodiac Casino
Most experienced Canadian online slots fans are very familiar with this progressive jackpot game, Mega Moolah! For those Canucks that are still new to the world of online slots, and particularly progressive slots, Mega Moolah is the most famous of all progressive jackpot games. The reason is simple, no other progressive jackpot game has made more millionaires more often that this famous Microgaming progressive jackpot game. The game is known for paying out big jackpots on a regular basis and is currently heading towards the $10 million mark.
Mega Moolah at one point was a well-guarded secret among slots fans, until the news exploded in 2009 after a winner landed a mega pay day of €6.3M, followed by an even bigger, record-breaking win in Sept 2018 of €18.9M.
Disclaimer: You can not actually play Mega Moolah for free due to the fact that it is a progressive jackpot. On desktop you can play with the paylines and see the payout tables.
Play Mega Moolah Progressive Jackpot Slot Game For Free
Play This Microgaming Slot Here:
Mega Moolah Progressive Slot Game
Essentially Mega Moolah is a 5 reel and 25 payline slot machine with a progressive jackpot and bonus features. The games theme is based around an exciting African safari adventure and is one of the main reasons why this game remains so popular (other than the regular big pay days).
Mega Moolah is a Microgaming slot game and was first introduced at online casinos in 2006. In the past decade this amazing safari-themed progressive game has made dozens of players millionaires in just one spin!
How to Play Mega Moolah
Basic Rules
The basic rules of Mega Moolah are fairly simple and the game is structured around its 5 reels and 25 pay lines.
Choose the amount of coins and bet size you wish to wager. Max bet value is $6.25.
Press the spin button
Symbols must match in a series on any of the 25 paylines, starting from the leftmost reel, in order to win.
A minimum of two matching symbols of the Wild Lion, Elephant or Buffalo will pay out, otherwise you must have at least three symbols.
If multiple paylines hit, the highest value payline is paid out.
The Wild Symbol, the Lion, will replace any other symbol except a Scatter to complete a series. The win amount is also doubled.
The Scatter Symbol, the Monkey, will pay out if at least two show up anywhere on any reel. Three scatters trigger the Free Spins round.
The Free Spins round grants you 15 spins where all wins are tripled in value. You cannot trigger the Progressive Jackpot from this round.
The Progressive Jackpot Bonus Round is triggered at random with higher bets getting a higher chance to win.
How to Bet
To begin with, players choose the coin denomination that they want to play the game with and the choice ranges from a minimum $0.01 up to a maximum of $0.05. Players can then choose how many coins they want to play per spin, the maximum is 125 coins per spin. The max is 25 paylines but the coins play into consideration when calculating payout. You multiple the paylines by the coins and then again by the amount bet to determine the payout. The maximum bet is thus $0.05 x 5 coins x 25 paylines = $6.25.
Playing Card Symbols
The regular playing card symbols are used.

Animal Symbols
The Elephant, Water Buffalo, Giraffe, Zebra and Kudu Symbols.

Special game features
Wild Symbol


The Wild Symbol in Mega Moolah is the lion character and his job is to basically substitute for any other symbol except the scatter. This helps to create more winning combinations than is ordinarily possible. The lion Wild Symbol also helps to increase the overall payout of a winning spin that it is a part of and can push the payout up to as much as 15,000X the original bet.

Scatter Symbol
The Scatter Symbol in Mega Moolah is represented by the monkey character and his job is to basically trigger the free spin bonus rounds in the game.
If there are three or more Scatter Symbols anywhere on the reels at the end of a spin, the free spin bonus round is automatically triggered.

Free Spins Bonus Round with 3X Multiplier
Getting three or more Scatter Symbols anywhere across the five reels will automatically trigger the Free Spins bonus round. Free Spins also come with a 3X Multiplier which will multiply any winnings made during the free spins bonus round by three.
Jackpot City: 80 Spins on Mega Moolah for $10
Want a chance to become an instant millionaire.? How about 80? Jackpot City is offering new signups 80 spins on the famous Mega Moolah slot game for only 10 CAD. Sign up using the link provided here, deposit $10 in the casino and you will be credited with 80 spins on Mega Moolah. After that you will still be eligible for Jackpot City's fabulous Welcome Bonus offer up to $1600 match in bonus money.
Claim now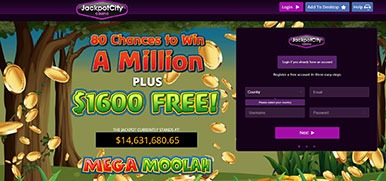 Graphics and Sound
Mega Moolah is an exciting game to play both visually and aurally, with plenty of bright colours and sounds of the African Savannah, as each winning combination will elicit the sounds of the animals involved with that particular winning combo.
This makes the game a whole lot of fun to play and is part of the big appeal besides the potential massive jackpots.
The game symbols are beautiful, fun animal caricatures reminiscent of the golden era of Hollywood movies when movies were all about the great adventure to Africa! The bright colours also make it a very easy game to follow and also entertaining just to watch the action unfold on every spin.
Mega Moolah Jackpot
The jackpot is progressive, meaning that every player that plays adds to the overall total. Getting into the Mega Moolah jackpot game is totally random and players that are fortunate enough to get into the jackpot bonus-round, play an additional jackpot wheel game. The only advantage given is that higher bets have higher chances at making it into the Jackpot Bonus round.
On Sept 28, 2018, a new Largest Ever Online Progressive Jackpot was won by an anonymous player from Grand Mondial casino. The player won on a $0.75 bet from their mobile device.
The Mega Moolah jackpot is the ultimate aim of the game and is the main reason why so many Canadians play. With over 20 millionaires produced since it was first launched and a massive jackpot win of €17.9 million by Jon Heywood from the UK at Betway Casino – The Mega Moolah jackpots are what keeps players excited about this special slots game.  There have been a few Canadians that have won the big prize, with the largest going to Marcus Goodwin, who won $11.6 million CAD in Nov 2016.
Mega Moolah Jackpot wheel
Players spin the jackpot wheel and can win one of four different jackpots:
Mini Jackpot
Minor Jackpot
Major Jackpot
Mega Jackpot
Jackpot players are guaranteed a win, in this round, as every stop on the jackpot wheel wins a prize. The amounts that players can win varies from a minimum $10 up to the millions
Mega Moolah is a high volatility progressive jackpot game with big chances to win.
Mega Moolah Winners
Mega Moolah Biggest Jackpot Winners History
Rank
Winner
Nationality
Jackpot Amount
Jackpot In CAD
Date Won
1
Grand Mondial Player*
Unknown
€18.9 Million
$28.2 Million
Sep 2018
2
Jon Heywood
UK
€17.9 Million
$26.5 Million
Oct 2015
3
E.O.
Canada
€13.4 Million
$20.1 Million
Jan 2019
4
Tipico Player
Unknown
€8.0 Million
$11.9 Million
Apr 2017
5
D.P.
Unknown
€7.9 Million
$11.8 Million
Aug 2016
6
Marcus Goodwin
Canada
C$11.6 Million
$11.6 Million
Nov 2016
7
Unibet Player
Unknown
€7.7 Million
$11.5 Million
Sep 2017
8
John Orchard
UK
£5.9 Million
$10.3 Million
Dec 2012
9
Spin Palace Player
Unknown
€6.9 Million
$10.2 Million
Apr 2016
10
C.F.
Canada
€6.7 Million
$9.9 Million
Mar 2017
11
Rawiri Pou
New Zealand
NZ$10.1 Million
$9.5 Million
Jun 2016
12
Georgios M.
Greece
€6.3 Million
$9.4 Million
May 2009
13
N.C.
Canada
€6.1 Million
$9.0 Million
Jan 2017
* The new Largest Ever Online Progressive Jackpot Win is also the Largest Mobile Jackpot Win and was won by M.D. from Grand Mondial in Sept 2018 on their mobile device.
Mega Moolah Mobile
Microgaming also offers Mega Moolah on a variety of platforms including iOS and Android, so you can play on your iPad, iPhone or Samsung Galaxy.  It is a great way to play this famous progressive jackpot and there have already been some big winners playing Mega Moolah from their mobile device.  A player from Tipico Casino won a record €8.0 million in late April 2017 using their mobile device!  The player so far has preferred to remain anonymous. Also, the latest record jackpot winner from Grand Mondial also played on their mobile phone.
Game Variations
Due to its great popularity with the players, Microgaming published a few other versions of Mega Moolah, so don't get confused. These include Mega Moolah Isis, Mega Moolah 5 Reel Drive, and Mega Moolah Summertime. All these games are part of the progressive jackpot system.
Mega Moolah Isis
Isis is one of the most renowned goddesses from ancient Egypt, known as the goddess of fertility and bounty. She is famous for giving life and riches to those who pray to her. No wonder Microgaming decided to use this legendary and iconic goddess to be featured in one of their greatest online casino slots, Mega Moolah Isis, developed in 2010.
Isis is supposed to award us mortals with riches beyond our beliefs, and that holds true with this unique and fantastic slot. The game has distinguished itself from other slots with its progressive jackpot that has already made some people millionaires, with one person taking home £13.2 million in 2015 and another winning over $11 million last year.
The game can be played at over 150 online casinos and is in the Top 10 of the most played online slots in the world. This is overwhelmingly because of the game's excellent features, visuals and astronomical jackpot. Currently, the jackpot is over $3 million and steadily rising, so watch out for that.
Gameplay & Features
Mega Moolah Isis has excellent wins in store for players. The goddess is the game's Wild symbol and landing 5 of those will award you with 10,000 coins. The Scatter symbol comes in the form of an eagle. This online gambling slot includes high-paying symbols like a golden orb, the Eye of Horus and a sarcophagus, while the card symbols are low-paying symbols.
Moreover, it has a special gamble feature that will let you gamble your most recent win in a game where you have to correctly guess the colour of the card to double your wins, or the correct card suit to quadruple your wins.
Playing Tips
This game offers a great amount of available Free spins. All you have to do is land enough Eagle Scatter symbols on the reels:
3 Eagles – 20 Free spins
4 Eagles – 25 Free spins
5 Eagles – 30 Free spins
Additionally, all wins during this round are multiplied by 6x, which can award you handsomely even when you get "just" 20 Free spins.
The game's progressive jackpot is randomly triggered during the game. When you are lucky enough to get a chance at the jackpot, you will play a Wheel of Fortune game, where you will play for one of these jackpot coin values:
Mini Progressive – 10
Minor Progressive – 100
Major Progressive – 10,000
Mega Progressive – 100,000
Whatever the outcome of the turn of the Wheel, you win in any case. To increase your chances at triggering the progressive jackpot feature, you need to increase your bet amount.
Mega Moolah FAQ
Mega Moolah is an online casino slot game developed by Microgaming. This video slot takes players on a safari through wild Africa with 5 reels and 25 fixed paylines, offering free spins and an enormous progressive jackpot. The progressive jackpot starts at £1 million and steadily rises due to the number of users playing the game and increasing the jackpot.
How do I play Mega Moolah?
Mega Moolah is like most online casino slots. Players can bet up to 125 coins per spin, which amounts to 5 coins per betting line. The coins can range from 0.01 to 0.05, with the maximum bet being 6.25 per spin. This makes Mega Moolah much more affordable than other slots with regards to the maximum bet. There is a number of special symbols that can handsomely award players; the Lion symbol can award players with up to 15,000 coins if they can manage to land 5 of those on the line. Landing 3 or more of the Monkey Scatter symbol anywhere on the reels will award you with 15 free spins, with all wins being tripled during this round.
What kind of jackpots does Mega Moolah offer?
The game's progressive jackpot is randomly triggered during the game. When you are lucky enough to get a chance at the jackpot, you will play a Wheel of Fortune game, where you will play for one of these jackpots: • Mini Progressive – starts at $10 • Minor Progressive – starts at $100 • Major Progressive – smaller than the Mega jackpot but can reach a big six-figure territory • Mega Progressive – starts at $1,000,000 Whatever the outcome of the turn of the Wheel, you win in any case. To increase your chances at triggering the progressive jackpot feature, you need to increase your bet amount.
What was the biggest Mega Moolah progressive jackpot won thus far?
The largest ever Mega Moolah Jackpot of €17.9 million was won in September 2018 at Grand Mondial Casino by a player whose initials are M.D. The jackpot was won with a 75 cent bet on their mobile device and only after 50 spins since joining the casino.
How can I increase my chances of winning the Mega Moolah jackpot?
Players have a chance to win the Mega Moolah progressive jackpot by playing with higher bets. The progressive jackpot bonus game is triggered randomly, but playing with higher bets ensures a greater chance to trigger the progressive jackpot.