Monopoly Live Casino
There is no denying that when it comes to Monopoly this classic game has a huge following. The launch of the board game back in 1935 sparked complete excitement among game players everywhere. More than 80 years later the boardgame has since been adapted into films, merchandise as well as slot games. The online gambling scene has particularly taken a liking to this incredible boardgame based game. This is probably because of its intricate and rather entertaining gameplay experience. There have been a number of slot adaptations of the game from various gaming developers over the years.
In more recent years the game has been adapted for use at some of the best live casinos in Canada. The version we are looking at is the Live Casino: Monopoly game developed by European brand Evolution Gaming. Monopoly Live as it is famously referred to is a rather special online game that draws all its inspiration from the original board game. The game incorporates the thrilling and at time intense gameplay of a money wheel and mixes this with the intricate gameplay of Monopoly. Players have a chance of scoring some really great prizes during game play.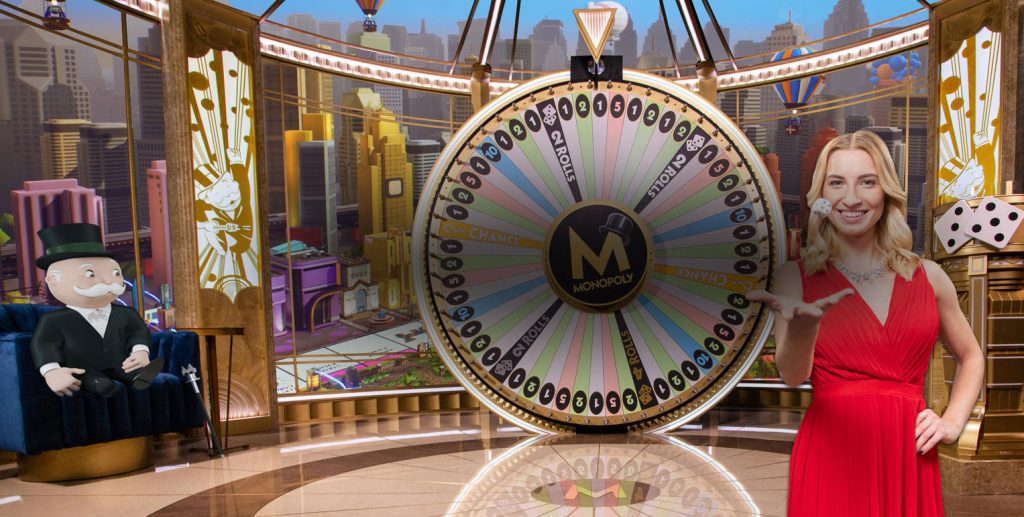 Best Live Casinos to Play Monopoly for Real Money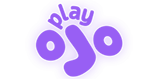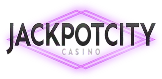 Play Monopoly at Jackpot City
Game Play and Rules
Monopoly Live follows a rather simplistic yet intricate gameplay strategy. This of course something that Canadian players will appreciate. The game is played live, and is found under the live casino section of any Evolution Gaming powered platform. There is a live spin host who stands besides or sometimes in front of the vertically displayed wheel. As a player your job is to predict which section the wheel will land on after the host gives it a spin. To add to visuals and graphics effect the "studio" where the live games are held are decorated to fit the ambience with a huge MR MONOPOLY MAN sitting on a chair to the left of the broadcast.
There are three features incorporated on the wheel, these are the CHANCE segment which reward players with instant cash prizes and multipliers, the 2 ROLLS segment and 4 ROLLS segments are used to elevate the gameplay experience. These segments are used to trigger 3D bonus games and transformational reality all built into the always fun MR. MONOPOLY adventures. The massive wheel features an impressive 54 different segments each of which unlock some insane qualities. As a player you simply need to bet whether the wheel will land at 1, 2,5,10, and 2 ROLLS or 4 ROLLS. If you have guessed correctly you will win the payout that corresponds to your guess.
Monopoly Live features rather distinctive betting options:
Simple bets: 1, 2,5, 10 choice, returns players 1x, 2x, 5x, or 10x the corresponding bet amount
2 ROLLS – this triggers the game's bonus feature
4 ROLLS – this also triggers the game's bonus feature
The 3D bonus round is triggered by the 2 ROLLS and 4 ROLLS segments here players are transported in a virtual reality world where they get to run around a huge 3D version of the board game claiming cash prizes, multipliers and much more. Staying true to the game's board game roots the walk on the board is determined by a pair of dice. Other elements also incorporated are the usual functions of GO, CHANCE, COMMUNITY, CHEST, HOTELS, HOUSES, JAIL as well as TAX.
The RTP on Monopoly live are as follows:
1 = RTP 92.88%
2 = RTP 96.23%
5 = RTP 91.30%
10 = RTP 96.02%
2 ROLLS = RTP 93.90%
4 ROLLS = 93.67%
Playing Tips
In order to successfully play Monopoly Live it's important to have a good grasp of the board game and to understand key concepts and functions. Knowing what the various board game elements are as well as understanding their repercussions and effect on the gameplay will help you get ahead. Also, remember to use bets that have higher payout percentages.
Advantages & Disadvantages
Playing Monopoly Live has a few advantages these include the ability to play a fan favourite game with high payout ratios from the comfort of your own home. It's also an extremely fun and interactive game that takes the pressure of "gambling" off your shoulders. The game is also often available on operators' mobile versions. A disadvantage of playing Monopoly Live is that it may sometimes just feel like another version of live dealer game, Wheel of Fortune, until of course you unlock the 3D bonus round.
Live Monopoly Games Vs Standard Virtual Monopoly Games
What's the fun of playing Monopoly when your opponent is a computer. Playing an online Monopoly game against a machine can feel pretty solitary. The thrill of Monopoly games is incomparable when played in a physical casino.
What if you can play monopoly games and experience the same thrill level as in a physical casino? Well, that's what it's like to play live Monopoly Games. Live Monopoly gives you the same excitement as that of a land-based casino but at the comfort of your home.
A live host spins the wheel in real time while players place their bet simultaneously. You can also interact with the host and players and even play other live monopoly games simultaneously. With a live host present, the game becomes all the more fun and stimulating, allowing you to enjoy it to the fullest.
Our Take
This is a refreshing take on an overplayed concept. If you are a fan of Monopoly and gambling, then the combination of the two may prove to be something quite special for you. The game is also designed by one of the best in gambling software development, so the quality and standards are up to par. It's also available in multiple languages for those Canadians who speak other languages. There is also a great deal of online casinos that accept Canadians who offer the experience in CAD for your convenience.
More Live Dealer Casino Games