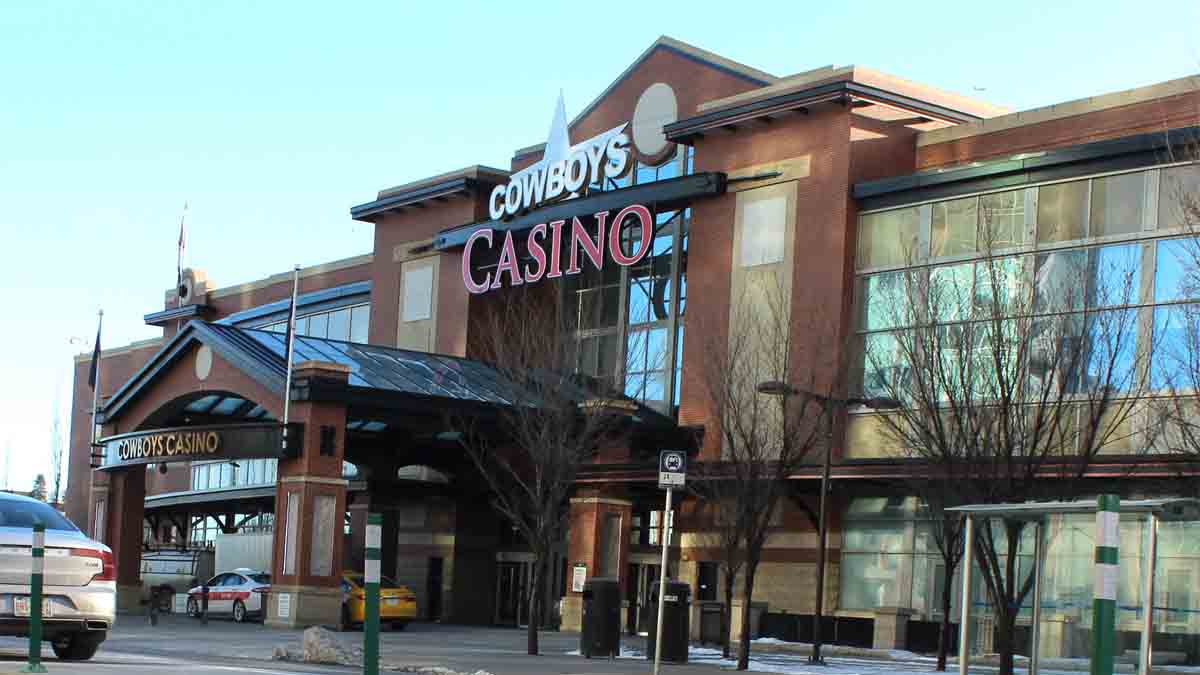 Located in the Stampede Corral Arena, in Alberta, Canada, Cowboys Casino is one of the most exciting casinos in the country as it has more than just games to offer. Here you can take advantage of a variety of packages to suit your budget and there is a range of weekly promotions that you'll be able to capitalize on. This is a place where you'll be allowed to let your hair down at the end of a busy day and relax at the restaurant, go beer tasting, lounge around in a luxury suite, enjoy a round of arcade games, and much more.
Cowboys Casino is partnered with a variety of nearby businesses and together they'll provide you with an incredible experience. With slot machines, table games, and a poker room, you'll be able to try your luck in a variety of ways. There's plenty to do at Cowboys Casino, so there's no reason not to visit and try your hand.
Cowboys Casino is partnered with Axe Games, Hotel Arts, Last Best, Cardinale, A/Maze, Greta, City & Country, and The Comedy Cave.
The Cowboys Casino Floor
The Cowboys Casino floor is filled with over 370 slot machines, 30 table games, a digital gaming pit, a 24-hour poker room, and a private high-limit lounge. The slots that are featured are some of the latest that the industry has to offer with traditional and progressive titles. These include the likes of Diamond Millions, Alberta Gold, Jackpot Junction, and American Original. You'll also find two ticket redemption machines and if you run into any issues, you can ask the staff for assistance.
Enjoy a range of table games such as Blackjack, Roulette, Craps, Free Bet Blackjack, Ultimate Texas Hold'em, Hand EZ Baccarat, Paris Poker, and a variety of Multimedia Gaming Pit titles. Table games are hosted by some of the most experienced dealers and whether you're a new or an experienced player, the staff is always ready to help you. If you're after a more exciting and high-stakes game, then check out the poker room. Here you'll find spacious tables that provide you with extra room, all-day Happy Hour prices on drinks, and discounted food by up to 30%.
The poker room is exclusive to those that are on the list, and if you're interested in joining, then call 403-514-7058. The digital pit consists of 20 terminals with large screens that will provide you with a colorful and immersive experience as you enjoy classic games such as Blackjack, Baccarat, and Roulette. The High Limit Room is the most exclusive part of the casino and here you can enjoy an exclusive cocktail menu, hand-crafted espresso beverages, specialty teas, and lemon-infused water.
The Amenities at Cowboys Casino
Cowboys Casino has a variety of amenities for you to enjoy, this consists of three restaurants and a nightclub.
Melrose Café & Bar: Established in 1991, Melrose has been serving guests in the 17th Avenue neighborhood for years and eventually opened up next door to Cowboys Casino. Here you can find a variety of specialty dishes such as Ginger Beef and Chicken Club sandwiches or you can enjoy specialty burgers and pizzas. Whatever it is that you're craving, you'll likely find it at Melrose Café & Bar.
Centre Bar & Eatery: Found right off the casino floor, Centre Bar & Eatery is an open concept bar that allows you to take in the energy of the casino will having something great to eat and drink. The menu consists of various light meals such as Teriyaki Chicken Rice Bowls and Chicken Tenders, and if you're feeling a bit 'dry' you can enjoy one of the weekly drink specials, such as Jager Bombs, Vodka Bombs, Corona & Tequila, and many others.
Cowboys Dance Hall: Enjoy great music, a variety of live performances, and music festivals at Cowboys Dance Hall. This venue is perfect for a wild night out as you dance away with the effects of the strobe lights. You'll also be able to book the venue for parties, corporate events, and fundraisers, and if you require VIP treatment, you can request bottle service via email.
Zen 8 Bar & Grill: If you're a fan of Asian food, check out Zen 8 Bar & Grill. Here you'll be able to try a variety of mouthwatering dishes such as Tuna, Yellowtail, High Balls, Nigiri Sushi, and much more. You'll also be able to book a Teppanyaki table, which is always a lot of fun. The bar offers a variety of popular cocktails and drinks, so check it out if you're thirsty.
Entertainment and Tournaments
At Cowboys Casino, you'll be able to take advantage of various packages that will provide you with a different experience. Whether you want to throw axes or live the high life, there's something for you.
Contact Info
Website: www.cowboyscasino.ca
Phone: +1 403-514-0900
Address: 421 12 Ave SE, Calgary, AB T2G 1A5, Canada
What's Next: More Casinos