High Limit European Advanced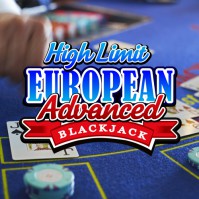 In most Canadian online casinos, blackjack is often considered to be the number one game and European Blackjack is the most played version of this iconic table-based card game. Microgaming are also the leading software brand when it comes to world class digital casino games and practically wrote the book on how to design and produce a competitive, highly immersive and realistic online casino game.
Microgaming have taken the game a step further with the introduction of their High Limit European Advanced version of European Blackjack and the game has attracted many seasoned and new blackjack campaigners across virtually all of our recommended online Canadian casinos. One of the most popular features or aspects of Microgaming's High Limit European Advanced Blackjack, besides the high limit, is the fact that the game only uses two decks of playing cards. This effectively means that the house advantage in the game is significantly reduced and allows players a much more solid footing when playing the game.
Gameplay and Rules
At the best Microgaming casinos, they've set their minimum bet for High Limit European Advanced at $20 which is ideal for blackjack players who enjoy the challenge of a high roller game. Our VIP casino players love the game and enjoy being able to bet up to $1,000 per hand as this allows for some substantial wins at a fairly low risk in terms of house advantage percentages.
High Limit European Advanced follows the same basic rules as standard blackjack so players who have not played this version before should have no problem getting into the game right away. However, if you are new to blackjack you should read up on basic blackjack rules and gameplay which you can find on our site. This will help prepare you for High Limit European Advanced as well as our other blackjack variations.
In a nutshell, High Limit European Advanced uses only two decks of cards and offers an insurance payout of 2:1 and a blackjack payout of 3:2. The player also has the option to split any two cards of the same type as well as double down on the first two cards if they show a value of 9, 10 or 11.
Playing Tips
Once you have familiarized yourself with the basic rules and gameplay of blackjack you can apply this knowledge to your first game of High Limit European Advanced. In the game it is a good idea to choose your stake by adjusting the option between a minimum of $20 and a maximum of $1,000. You can also select from up to six different coin values which helps to suit any playing budget.
Once this has been finalized you are ready to begin playing and can select on deal to see your first two cards. Other useful options includes a hit or stand button, double up or split buttons, banking, sound control, further options and a help button.
Advantages & Disadvantages
There are quite a few advantages to playing High Limit European Advanced Blackjack. One of the main advantages is that the game only uses two decks of playing cards which significantly reduces the house advantage in the game. The game offer fantastic graphics and sounds with plenty of betting and game options at your disposal. The only disadvantage is that the game starts off at a fairly high $20 per hand which may be a bit rich for some players.
Playing High Limit European Advanced for Real Money
European Blackjack is the most played version in this series, surpassing graphics and background score. As the name suggests, the game proffers bets starting from $20 to as high as $1000 with little to no risks.
You require two decks to play this advanced version with insurance and blackjack payouts of 2:1 and 3:2, respectively. Furthermore, the game is not hard to understand, meaning if you know the basic rules, you'll be good to go!
The player can even split two similar cards and double down on the first two cards between 9-11. It is best to stick within the budget outlines of 20 and 1000.
The only shortcoming here is that $20 isn't affordable for all the players. You should definitely try this one if you love the realistic feels of games. Try this now at online casinos in Canada!
Our Take
Microgaming certainly know how to design a great casino game and High Limit European Advanced is one of their best yet. The game offers fantastic quality in graphics and sound, making the game one of the most realistic and immersive versions of digital blackjack available. You can find this great online blackjack game if you see online casinos in Canada that we recommend.
See More Blackjack online variations