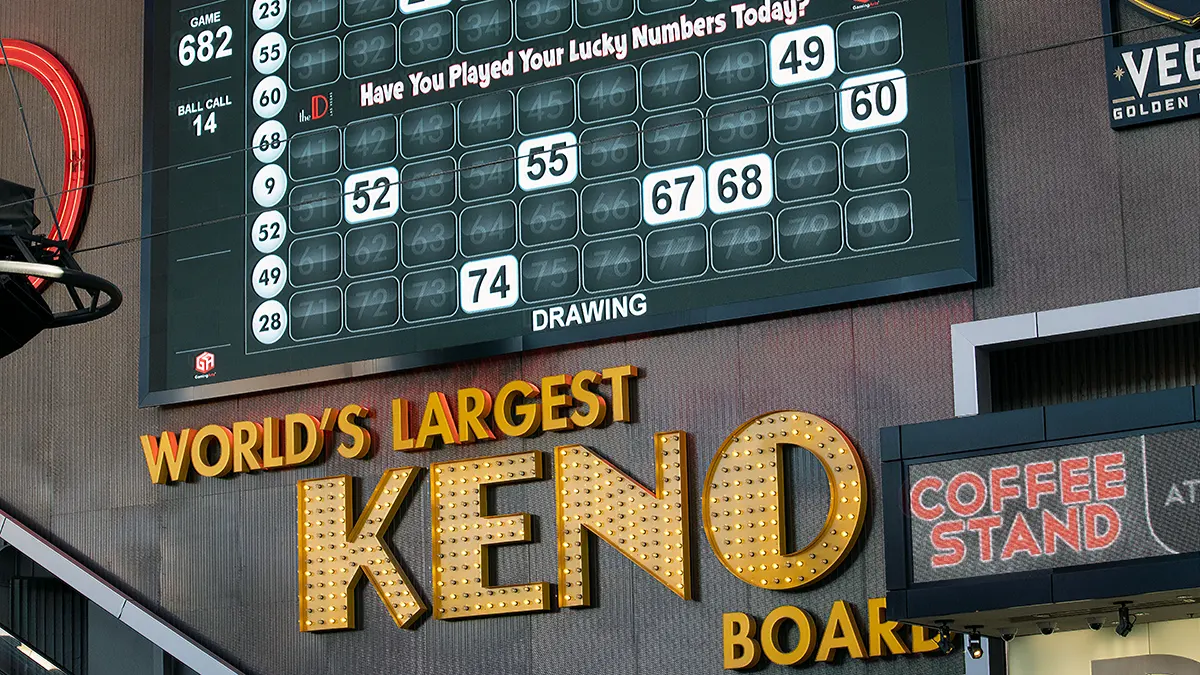 Get Your Card Ready: Where to Play the Best Keno Online Casino Games
Online Keno is a game where you have a board consisting of numbers 1-80 and players choose a set of numbers in the hope they will be drawn and matches will be made, producing wins. Keno is both low risk (minimum bets can be as low as $1) and can produce big jackpots win when players can match a maximum amount of numbers.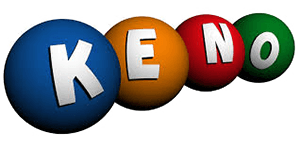 Keno Online is an easy game to play and one shouldn't be put off by the odds of winning nor by the house advantage that this game carries. While it may be slightly harder to win consistently with online Keno, it is still one of the most fun and one of the fastest games to play at online casinos in Canada.
Canada's Best Keno Casinos
Rank
Casino
Bonus
Visit
Info
1

JackpotCity Canada

$1600

Visit Casino

Enjoy Keno games with Jackpot City - heaps of fun with a minimum risk

18+. This offer is not available for players residing in Ontario

2

PlayOJO

80 No Wager Free Spins

Visit Casino

Experience the traditional game in a modern outfit with amazing sounds and graphics

18+. This offer is not available for players residing in Ontario

3

Spin Casino

$1000

Visit Casino

Play Keno for free or real money and enjoy 96%+ guaranteed payouts

18+. This offer is not available for players residing in Ontario
Keno Rules: How to Play Keno Online
The rules of online Keno are quite straight forward and the game itself is similar in its mechanics to most lottery-type games.
To play a game of Keno online, simply follow these basic steps:
Keno is played on a numbered grid sheet, similar to bingo and to start playing you will need to select a set of numbers. The amount of numbers that you pick vary from one game to another.
Once you have chosen your numbers and feel sure about them, simply hit the start button.
The game begins and up to twenty numbers are selected randomly by the game software.
Compare your chosen numbers to the winning numbers to see how many match.
Get paid - depending on the game, the payout table and the amount of correct numbers you have picked, you will win a cash payout.
Why playing Keno online is a great idea
Playing online Keno is quick and easy and you can play a lot in a short space of time. Online Keno, along with online Video Poker and online slots presents a number of variations to the player, keeping the game interesting and also offering different pay out sums.
The game is quick to learn, like slots and modern Keno games also offer a variety of added extras, like bonus rounds or increased Keno balls per game to increase winning odds. Online Keno is also very popular with Canadians which means that you will find the game at most online casinos and on mobile casino platforms.
An online Keno board looks like this: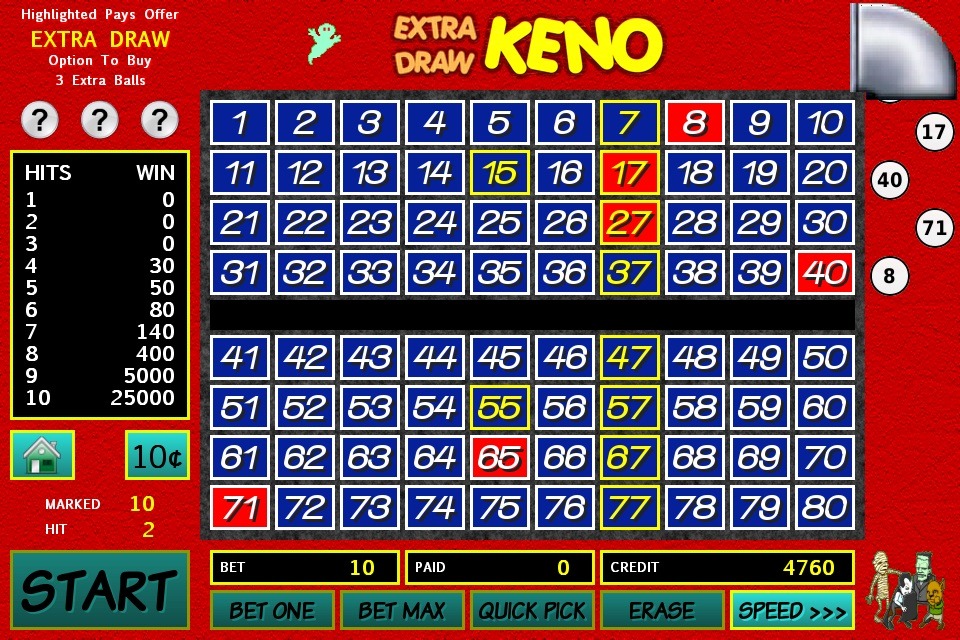 Keno Online Free
Before starting to play Keno for real money at online casinos, it's rather to try it out for free. In this case you will learn the game properly, and even could fine tricks and sharp your skills. When you will feel ready to take your skills to the next step, only than we recommend you to start playing Keno for real money.
Keno Odds
Unfortunately, the odds in Keno aren't great. The house edge (house advantage) is pretty high, at an average of around 20-30%.
This means that Keno has one of the worst odds of winning of any casino game. The game is actually a bit more similar to national lottery games in this regard. The only advantage that Keno has over other casino games that have a better or lower house advantage is that Keno offers the possibility of a jackpot win. Keno is all about guessing the right number and that's the tricky part.
Variations of Keno Online
Just like other easy to play online casino games like Video Poker or Slots, Keno offers a few variations on the basic format to keep things interesting.
The most basic variation in online Keno is the amount of numbers that you can choose from and two of the most popular are known as 10-spots or 20-spot tickets.
Among the different 10 and 20-spot tickets are the following variations:
Super Keno: Super Keno takes the standard Keno form and offers a special bonus, usually a X4 bonus win if players manage to match the first number drawn.
Power Keno: Power Keno is similar to Super Keno and is also based on the standard Keno format. In Power Keno however, if a player manages to match the last number drawn they can win a X4 bonus pay out.
Combined Keno: In Combined Keno, different groups of selected numbers are combined to create more winning opportunities.
Differences Between Online Keno and Online Bingo
Numbers – In Bingo, numbers are pre-determined for the players whereas in Keno, players are allowed to choose their numbers.
Betting - Bingo cards are a fixed price whereas in Keno, players can choose how much they wish to bet on each game and the number of games.
Drawing Numbers – Bingo numbers are drawn randomly until one person wins, whereas Keno numbers are drawn from the lot of numbers which means you can have multiple winners at one time.
Winning – Bingo gives prizes for completing lines and a full house whereas Keno has a set payout.
Bottom Line on Online Keno
The game mechanics are simple and, unlike other casino games like Roulette online or Blackjack, there are no complicated strategies or rules to learn. The game is simply about picking a certain amount of number from a sheet or table and seeing how your luck holds up!
The variations on the original game also makes playing Keno online more exciting and it is possible to find some Keno variations that offer significantly big pay days!
If you feel like testing your luck or are simply curious after reading this article on playing Keno online, then be sure to visit one of our recommended Keno casinos, hand-picked by Casino Canuck just for Canadian players!
Online Keno Casino FAQs
What is Keno?

Keno is a game that is played using 80 balls that are numbered 1 through 80. In every game, the RNG will draw 20 balls for the house and display the numbers on screens, which are called keno boards. The goal of the game is to guess as many numbers as possible. Players mark the numbers on a keno ticket, which is located at the tables throughout casinos. So, keno can easily be considered a mixture of bingo and lottery.

How do I play Keno?

Keno is definitely one of the simplest and easiest games to play at any casino. You just have to pick your numbers on your draw ticket and can then lean back and wait for the results. Keno cards can be found around the entire casino or in the keno lounge. You can select your numbers and decide on the amount you wish to bet. Then you give your card to the keno desk or a keno runner, pay the total bet amount, and receive your ticket.

How does online Keno differ from live Keno?

Online Keno is basically the same as traditional casino Keno, with several minor variations, which ultimately make the game more interesting. Online Keno offers much smaller betting amounts than live Keno, which makes it more attractive and quicker. Instead of waiting for the main game draw, players can draw instantly and see if they won. Additionally, online casinos often offer better conditions for players when playing online Keno at online casinos instead of at a live casino, with a lower house edge.

What is the house edge in Keno?

The house edge in Keno is extremely high, often somewhere between 25% and 29%. It is definitely one of the more player-unfriendly games in casinos. But, this should not discourage potential Keno players, because Keno has a very alluring gameplay and it is one of few casino games where a $1 bet can get you $10,000.

How does Keno compare to other casino games?

While casino games like blackjack and roulette have house edges of 0.28% and 2.7%, respectively, Keno offers a very high house edge with its 25%. However, Keno is also one of those games which can award you solely based on the house edge. The simple gameplay will let you make your pick and then relax and wait for the draw. Keno can be considered a recreational casino game.
More Online Casino Games