Premier Roulette Diamond Edition +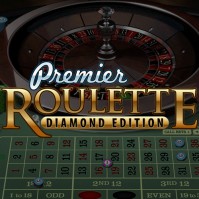 Premier Roulette Diamond Edition takes the well-known and well-loved game of online roulette and gives it the star treatment. The game, from Microgaming, is a much improved edition of their popular online roulette standard game and offers fans a number of improvements over the original game. Canadian online roulette players can now look forward to the highest quality in graphics and sounds as well as smoother and more immersive gameplay.
Gameplay and Rules
Premier Roulette Diamond Edition is very easy to play and Canadians that have some experience playing online roulette should adjust to this game without any issues. Microgaming chose to go with the European roulette version for their diamond edition which also happens to be the favoured roulette version among Canucks and, with its traditional single zero feature and simpler gameplay, should be easy for novice roulette players to pick up quickly too.
Another great advantage of Microgaming going with the European version of roulette is its lower house advantage odds which are a very comfortable 2.7% as opposed to the American version of roulette which is notorious for its incredibly high house advantage.
Playing Tips
In terms of rules, Premier Roulette Diamond Edition follows the standard set for European roulette with some added gameplay extras. Visually the game is quite different from the sort of roulette that most Canadians are used to playing at online casinos. This is because Microgaming have decided to go with the roulette wheel in the center of the screen and not at the end of the table as you will no doubt find in most online roulette games.
This makes the game a lot more interesting to look at and you also have the additional option of playing in regular or expert modes. The two modes control how full your roulette game display is with expert offering all the options available on screen on an expanded table. Regular mode offers a more streamlined view of the roulette table with only the essentials on display. This mode is recommended to beginner roulette players as the simplified screen is a lot easier to deal with.
Advantages & Disadvantages
Premier Roulette Diamond Edition is the best update that Microgaming have released to their number one selling online European roulette gaming platform and there are certainly more advantages to the game than there are disadvantages. Being able to select between two playing modes makes the game accessible and interesting to a wide variety of Canadian players while opting to go with the European version of roulette offers a much more player-friendly house advantage. Perhaps the only disadvantage would be where the wheel is placed, some players still prefer the wheel at the side of the table in a more traditional setting.
Our Take
You will be hard pressed to find a better version of online roulette for Canadian players (perhaps with the exception of High Limit European Gold Roulette – also from Microgaming). Premier Roulette Diamond Edition fulfills all the requirements to be a great online Canadian roulette game, with an incredibly lie-like 3D gameplay that makes it seem as close to a real roulette table as one can get in a non-live casino table game. The fantastically low house edge along with the easy European rules makes this edition perfect for all Canadian roulette fans of all experience levels.
For More Roulette Games