Multi Player Roulette Diamond Edition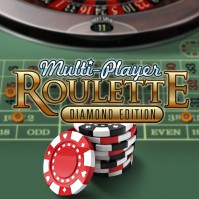 Microgaming are once again at the top of Canada's favourite online casino software provider list with their latest edition to their massively popular and successful Gold Series and Diamond Edition roulette games. Microgaming have spent a great deal of time creating and designing some of the best online table games for the Canadian online casino market with variations of American, European and French roulette to suit all types of Canuck roulette fans.
The brand pushed the bench mark even further with their Gold Series which offered improved graphics and sounds, resulting in a far more realistic and enjoyable digital roulette experience. Microgaming's Gold Series includes French, European and American roulette versions as well as their fun and challenging Multi Wheel Roulette game.
The Diamond Edition of Microgaming's finely crafted digital roulette games is considered by most experienced Canadian online casino gamers to be the ultimate in digital roulette, with incredible 3D graphics and sounds, offering the closest simulation yet to a real live roulette experience (other than live dealer casino games).
Gameplay and Rules
Microgaming's Multiplayer Roulette Diamond Edition follows the same rules and standard gameplay as one would find at a European roulette table. The game incorporates all of the best features you'd expect from the the best Microgaming casinos, including incredible 3D graphics which really add a convincingly realistic feel to the game which is also helped out by high quality surround sound effects. The main difference however with Multiplayer Roulette Diamond Edition is of course the opportunity to engage with other players around the table.
Multiplayer roulette is of course ideally suited for Canucks since we are incredibly social by nature and bringing the social element into one of the most popular online casino games in Canada is a win – win situation. The interactive chat facility allows you to converse and interact with any of the other players around the table, just as you would if you were in a real land-based casino.
Multiplayer Roulette Diamond Edition also offers a few other great features to further enhance the overall interactive and community experience of this version of European roulette. Players can adjust their angle of view and can zoom in on the roulette wheel and see what other players have bet and the ensuing results. You can also observe any other players game and see how they bet and also how they are doing in the game.
Playing Tips
Of course being an interactive version of roulette one can do a few things that are not possible in standard or regular versions of online roulette. One of the most fun features of Multiplayer Roulette Diamond Edition is the ability to create a custom avatar before starting a game of roulette and interacting with other players around the roulette table.
The game also allows you to control the speed of the game which is very handy if you are still quite new to the game and wish to learn as you play. You can customize the game speed ranging between 20 to 60 second spins.
Advantages
| | |
| --- | --- |
| | Interactive chat feature |
| | Zoom control |
| | Game speed control |
| | Autoplay facility |
| | |
Play Multi Player Roulette Diamond Edition for Real Money
Microgaming has greatly invested in enhancing the designing of the best online table games and improving the roulette game. The Multi-Player Roulette Diamond Edition boasts incredible graphics and immersive sound quality. These attributes uplift the gameplay by degrees, improving the player experience.
The best part is that Microgaming has incorporated the best of features in a single game here. For instance, 3D graphics! You can even connect with other players through the interactive chat facility.
If you are still contemplating whether you should try this gripping game or not, here's more. You can adjust the screen view, zoom in on other players' roulette wheel, and leverage it to win. Also, you can always control the game's speed to play as per your learning speed! Multi-Player Roulette Diamond Edition is an all-encompassing game with interactive chats, zoomed vies, speed controls, and so much more. No doubt Canadians love it!
Our Take
Multiplayer Roulette Diamond Edition may be Microgaming's best digital roulette version yet and the game will appeal to both serious and casual Canadian roulette players. The interactive chat feature is fun and the game also includes a number of useful features, allowing a customizable roulette gaming experience.
One of the most popular editions in Microgaming's Diamond Edition games for Canadians is their Multiplayer Roulette Diamond Edition game, which adds an exciting social element to an already incredibly immersive 3D roulette experience. You can find Multiplayer Roulette Diamond Edition at a number of our recommended casinos. If you'd like to see online casinos in Canada that offer this and much more, look through our reviews.
More Roulette Games to try