High Limit European Roulette Gold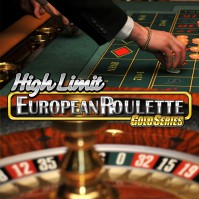 Another great take on the classic game of roulette from Microgaming for Canucks interested in this enthralling and rewarding casino table game comes in the form of High Limit European Roulette Gold.
There are a few notable differences with this edition from the industry's leading software provider including a higher limit than most other online roulette games, improved graphics, sounds and gameplay and the use of the European version of roulette as its platform. Let's take a closer look at the main features and why you should consider High Limit European Roulette Gold on your next visit to one of our recommended online Canadian casinos.
Gameplay and Rules
Microgaming's Gold series takes traditional online table games to the next level with improved graphics and sounds as well as a more immersive gameplay. High Limit European Roulette Gold is a standout of the genre and Canuck fans of Microgaming's Roulette Diamond Edition will definitely love this game as well. The quality of the graphics in this game are fantastic and make seeing the roulette ball against the wheel very easy. This is very important to keep track of the game and where the ball lands. Another great feature is the option to change the view from a normal third person to an overhead shot. This makes seeing all the action on the table in a single glance very easy indeed.
The rules of High Limit European Roulette Gold are the same as the standard rules of European roulette that you will find at any of our Canadian online casinos with the exception of the ability to bet to a much higher limit than standard online roulette allows. Betting ranges are comprehensive and include the following:
Straight Bet Limit = $15
Split Bet limits = $20
Square Bet limit = $30
Dozen Bet limit = $70
High Limit European Roulette Gold is aimed squarely at serious roulette players and Microgaming has included a range of practical functions to enhance your gaming experience. Some of the most notable additional functions and features include:
Auto Play Mode
Re-Bet Mode
Red Splits
Black Splits
Zero Game
Playing Tips
Microgaming have designed their Gold Series to be as useful and as functional as possible, making great online roulette for serious Canadian players' simple and fun. While the game follows the same set of rules as standard European Roulette, it is still important to familiarize yourself with the table and the particular gaming style that is unique to High Limit European Roulette Gold.
One of the games main features to look out for is the main maximum betting limits mentioned above. The game also allows for two interesting additional bets, the call bet and the neighbor bet. The neighbor bet makes the game very interesting as it includes up to nine 'neighboring' numbers on the wheel around the chosen number. Roulette is of course a game of chance but many believe that various roulette betting strategies will help make decisions on various roulette bets easier. If you are new to roulette it may be a good idea to start with a few simple outside bets which are quite safe and are ideal to getting your feet wet.
Advantages & Disadvantages
We have found no real disadvantages to High Limit European Roulette Gold. Players are not forced to adhere to the high limits and the European rules and gameplay are more forgiving than the American roulette version is, with much lower house odds.
Play High Limit European Roulette Gold for Real Money
With compelling graphics and a gripping background score, as the name suggests, the game offers a higher limit than usual. But what makes it popular? The feature that sets it apart is the overhead shot view. Yes! Finally, a game where you can switch the view to see the action on top of the table clearly!
European Roulette Gold has two modes and two splits with a flexible betting range from 15 to 70 CAD High Limit.
Still not intrigued to play? Well, here's more. Microgaming's Gold Series is practical and functional, making your playtime seamlessly simple and super fun. The best part is that you need not stick to any user bet limits. The gameplay is immensely flexible. If fun high wagers are what you crave, look for casinos online and get started with the gold series now!
Our Take
Microgaming's casino games are known around the world Alongside Premier Roulette Diamond Edition, High Limit European Roulette Gold represents Microgaming's ability to produce a world class online roulette game that is head and shoulders above what many other software providers are capable of producing. You can find both of these fantastic versions of the world's most iconic casino game at many of our recommended online Canadian casinos including Jackpot City and Royal Vegas.
More Roulette Games to try