French Roulette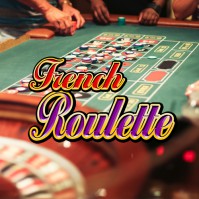 French Roulette is considered to be the original version of the most iconic casino game in the world and was invented by a French mathematician, quite by accident. The man's name was Blaise Pascal and the game of roulette as we know it was the eventual by product of his search for a perpetual motion device. The game was enhanced by two brothers who introduced their version to some of the earliest European casinos including Monaco and Germany. The game quickly caught on and became the most widely played casino game in Europe.
Today many Canadians still love playing this original version due to its simplified gameplay, the single zero and a comparatively low house advantage. In virtually any online casino today, you will find three distinct versions of online roulette, French, European and American. If you are new to the game of roulette it may be a good idea to start with online French roulette at any of our recommended Canadian online casinos.
Gameplay and Rules
Online French roulette follows the same gameplay and rules as the original game, the gameplay itself is merely adapted for the online casino gaming market with enhanced graphics for better viewing on desktop, laptop or mobile screens. The rules of online French roulette are also quite straightforward and fairly easy to learn. There are essentially two main types of bets that players can make, outside bets and inside bets.
Outside bets: These are considered to be the easiest of all roulette bets and consist of simple bets such as betting on black or red, odds or evens as well as first, second and third dozen. They are called outside bets because bets are placed outside of the number grid, these bets also payout low at just 1:1 or 2:1 odds. In French roulette the 'La Partage' option allows any player with an outside bet to get half their bet back if the ball lands on zero/green.
Inside bets: These are the bets that one can place within the numbered grid and there are various options available including betting on a single number which offers the highest odds in the game of 36:1 as well as other inside bet variations including corner bets, straight up bets and many others. These sorts of bets are generally considered to be more appropriate for experienced roulette players.
Playing Tips
To get started with French roulette it is recommended to read our reviews on top online casinos in Canada and find top French roulette games provided by Microgaming and other software providers. If you are new to French roulette it may be a good idea to start with a few basic outside bets as described above. This is a good way to get a feel for how the game works and is easier to work your way to making more adventurous inside bets.
Advantages
| | |
| --- | --- |
| | Easy to learn |
| | Accommodates beginners and experienced players |
| | Low house advantage of 2.7% |
| | Includes La Partage option |
Disadvantages
| | |
| --- | --- |
| | May not count towards unlocking an online casino bonus |
Play French Roulette for Real Money
The original version is the most exceptional casino game in the world. With enhanced graphics, the game is top-rated among the Canadians, given the simple gameplay, single zero and a relatively low house advantage.
The game has three popular versions, American, European and French. French Roulette is perfect for you if you are a beginner with the Roulette game. The rules are simple. The game offers two types of bets, Outside and Inside bets.
Outside bets are made on black or red, odds and first, second and third dozen. As the name suggests, they are placed outside of the number grid.
On the other hand, inside bets are placed inside the numbered grids and offer the highest odds like 36:1 as opposed to 2:1 in the outside bets. It is recommended to start with outside bets. The game is very easy, all thanks to simple outside betting options that offer good play even for beginners.
Our Take
With so few disadvantages as well a more favourable house edge when compared to American roulette, online French roulette is one of the most popular online casinos games favoured by Canadian players. The game is very easy to get in to, thanks to easy outside betting options and offers plenty of more complex betting for advanced players.