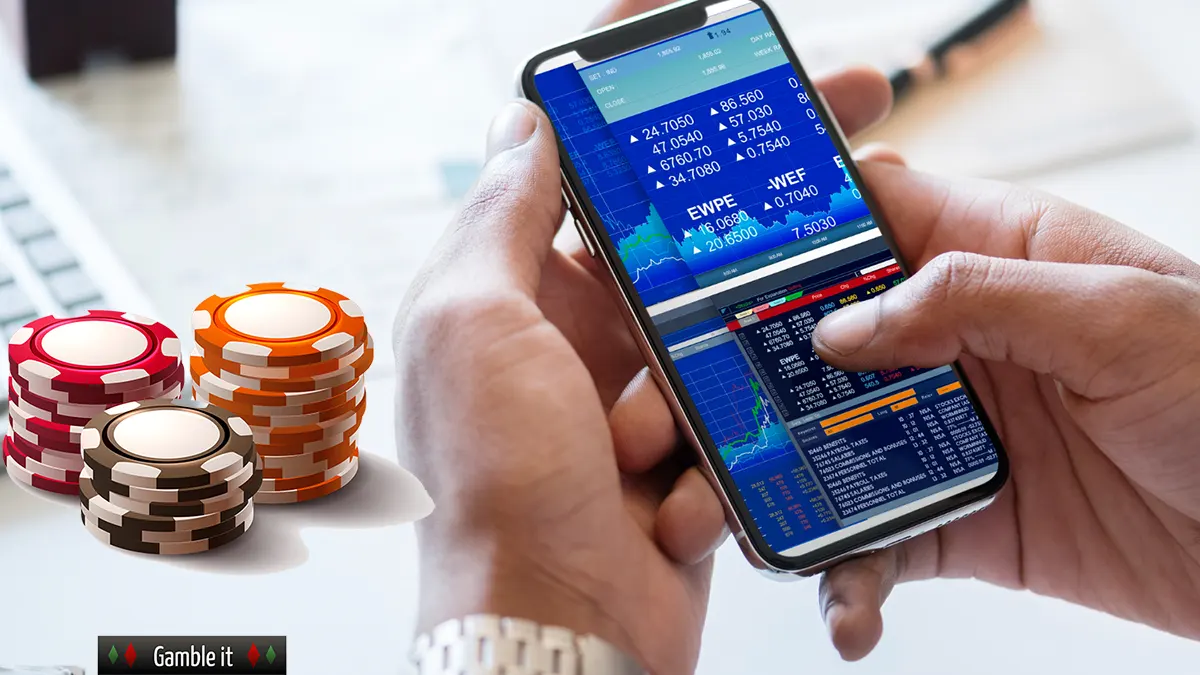 Casino Stocks: Largest Gambling Stocks by Marketcap
Stocks are the shares into which ownership of a company is divided. The profit from the company's business is then shared out among the owners of the stock. Buying and selling of stocks is done in the stock market. Traders at the stock market aim to own the most profitable shares. Casino business can be highly profitable and traders have always shown interest in the best performing casino stocks.
Casinos are bound by external rules, regulations, and licenses. These determine their profitability and even legitimacy. Before you invest in casino stocks, you should be aware of how the casinos operate their business. The profitability of casino stocks can be influenced by various factors.
Firstly, the suppliers of the gaming software are influential in determining the type of clients the casino attracts. Then, we have the social dynamics where some casino activities attract higher spending clients.
Lastly, casinos are bound by rules, regulations, and licenses from different authorities. These regulations could very well determine the areas where the casino can operate, its permitted activities, and even legitimacy.
Casino Industry Overview
The casino industry began from small buildings where people would gather to try their luck on cards and later on simple slot machines. In other games of chance, people would place bets on competitions such as boxing matches or fights between animals. Some of these activities are illegal in today's betting industry.
Today's casino industry is a behemoth that is worth billions of dollars. We still have brick-and-mortar casinos where people can go to play their favourite game of chance. However, the trend has been for gambling activities to be concentrated in destinations that have favorable regulations for the industry. Examples that come to mind are Las Vegas in America, Monaco in Europe, and Macau on the Asian continent.
Land-based casinos have also diversified their activities to include entertainment such as sports cars and dog races. In addition, some of them own top-end tourist resorts and hotels. Some betting firms also own or sponsor top soccer leagues and teams. Online gaming activities have grown in leaps and bounds.
REIT refers to Real Estate Investment Trusts which are an investment option based primarily on the money that is generated from the rents casino pay. Casino stocks on land and physical properties of casinos tend to be less risky because a component of profits is from rents that are more or less fixed.
Online casinos in contrast get most of their business from gambling activities and gaming suppliers. Their profitability is controlled by the jurisdiction they are allowed to operate from, regulations, and the trade licenses they win or get. Profits can be more volatile in online gambling stocks.
An illustration is the approximately 50% drop in the Macau casino stocks when China began a crackdown on corruption and money laundering in 2014. When buying casino stocks, you must understand REIT and accept the risk profile of your preferred stock.
Top 5 Gambling Stocks
Las Vegas Sands
The company is based in Paradise, Nevada in the USA, it has invested in entertainment, gambling, resorts, and even an art museum. their flagship casino is Venetian Casino, Macau. The company operates in Macau, Singapore, and the USA. With a market cap of $31 billion, they are one of the big boys of the gambling stock market based on their market cap.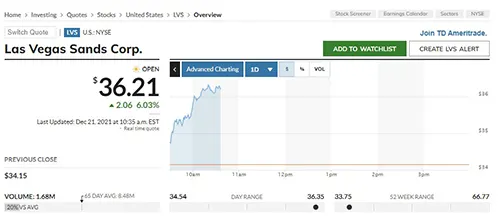 However, in the last year, their stock has been on a general decline following the peak in mid-2018. The recovery of the stock has been slight in part due to the pandemic restrictions on travellers to Macau. Check out the current status of this stock – https://www.marketwatch.com/investing/stock/lvs
MGM Resorts International
This company was founded on 29th, January 1986 by Kirk Kerkorian. Its main line of business focuses on entertainment, gaming, dining amid a host of other activities. The company's activities are located in the USA as well as Macau. They are one of the largest players in the casino stock market with a market cap of 23.11 billion.

Despite a slump in its Macau business, the USA market has been on fire. Over the past year, the stock has been performing well, climbing 125%. The last 18 months have seen a 251% climb. With a market share of 23% of the US online gambling market according to Entain, MGMBet's online gaming partner, this company is huge. Check out the current status of this stock – https://www.marketwatch.com/investing/stock/mgm
Caesars Entertainment
Caesars Entertainment has its headquarters in Reno, Nevada, USA. Its business includes hospitality, online sportsbooks as well as racing. The company was founded in 1996 and has a market cap of $24.1 billion as of 18th October 2021.

Formerly known as Eldorado Resorts, it changed its name to the current name after acquiring Caesars Entertainment Corporation. With over 50 properties scattered in various states in America, the company's stock has been doing well. It is a stock worth watching as American businesses go into a post-pandemic recovery. Check out the current status of this stock – https://www.marketwatch.com/investing/stock/czr
Penn National Gaming
This company was founded in 1972 and is has its operations spread across the USA and Canada. Penn National Gaming is headquartered in Wyomissing, Pennsylvania, USA. The company runs casinos and racetracks and has also ventured into video gaming.

It has 44 facilities in the US and Canada. Many of its casinos are run under the Hollywood Casino Brand. Its current market cap is $12.18 billion as of October 18th 2021. The stock has been on an upward trajectory in the second half of this year. Though in the last few days it has fallen slightly, the earlier surge was above the market's performance. Check out the current status of this stock – https://www.marketwatch.com/investing/stock/penn
Wynn Resort
Wynn Resort is named after Steve Wynn who founded the company in 2002 together with Kazuo Okada. Steve is the former CEO and Chairman of Mirage Resorts. The company has its headquarters in Las Vegas in Nevada, USA.

It is in the business of developing and operating several high-end hotels and casinos. Currently, the Wynn Resort Market cap stands at $10.5 billion. Although its stock has been performing well, its Macau operations have been facing headwinds, courtesy of Chinese efforts to regulate the casino industry in Macau. Check out the current status of this stock – https://www.marketwatch.com/investing/stock/wynn
Top 5 Online Gambling Stocks
Flutter Entertainment
Based in Dublin, Ireland Flutter Entertainment was created following the merger of Paddy Power and Betfair. It later acquired the Stars Group. Presently the company has a market cap of 25.22 billion GBP. In 2020, their revenue was 4.398 billion GBP.
Analysts have projected a positive performance for this company's stocks following a share price rise of 1.04% in the past month September-October 2021. Flutter Entertainment runs the various Sky brands that specialize in racing, online betting, sports betting among other activities.
Evolution Gaming
Evolution Gaming is a B2B player in the casino industry. It is headquartered in Stockholm, Sweden. Founded in 2006, the company specializes in producing, developing, marketing, and licensing stock solutions for gaming operators. Thor area of operation is several European countries as well as in the USA.
As well as running premise solutions in several land-based casinos, they also stream table gaming in real-time. Indeed, they run approximately 700 tables for various casinos. Moreover, they provide a slew of other online games. The company was formally known as Evolution Gaming Group AB (publ). Their market cap stands at 301.59 billion as of October 18th 2021.
Draft Kings
This American company has its headquarters in Boston, Massachusetts, USA. Founded in 2012 by Jason Robins, Paul Liberman, and Mathew Kalish, the company has a market cap of $ 19.62 billion. The main business of Draft Kings is providing daily fantasy sports betting contests where players get to win cash prizes.
Though the stock had dropped a bit in the previous year, it has shown signs of recovery and a return to profitability. In part, this is due to favorable gaming legislation following the conclusion of the USA elections. The company is set to release its 3rd Quarter results on November 5 2021.
Playtech PLC
This is a stock that is currently on fire after Playtech agreed to be bought by Aristocrat in a $3.7 billion deal. The sale to the Australian company has seen Playtechs' shares surge.
Playtech was founded in 1999 in Tatu, Estonia by Teddy Sagi. It has its headquarters in Douglas, the Isle of Man. The company deals in providing software for online casinos. Among their activities are, the provision of online poker rooms, mobile gaming, online bingo, scratch games, live dealer games, and fixed-odds arcade games. Their market cap stands at $2.07 billion as of 19th October 2021.
888 Holdings
This is a public company that owns a portfolio of popular gambling like 888 casino and other brands as well as websites. It was founded in 1997 by Israeli entrepreneurs. Its revenue base was $ 842.7 as of 2020. The company is listed on the London Stock Exchange. 888 Holdings is in the process of buying the non-USA assets of William Hills from Caesars for $3 billion. This will see the company shift from focusing purely on online business to having a presence in British betting shops. Its revenue has also improved in the last 3 months. Currently, 888 holdings' market cap stands at $1.52 billion