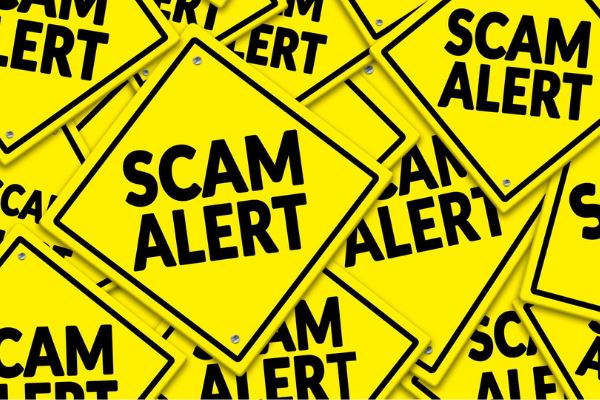 Online Casino Scams – Scam Free Bonuses
There are many online casinos out there and new ones pop up every week. One common theme you'll notice with most of these casinos is they all try to impress you with what they have to offer. A huge selection of games, generous welcome bonuses, impressive websites, competitive VIP programs — the list goes on and on.
There's nothing particularly strange about this, as we all know that good marketing aims to grab your attention and impress. However, there is a big difference between clever marketing and flat-out lies. While the former is just a business strategy, the latter can indicate a scam looking to rope you in and cheat you out of your money.
Unfortunately, online casino scams aren't all that rare. There are many operators who represent themselves as legitimate online casinos, but their only agenda is to make as much money as possible from unsuspecting players before disappearing.
Scam Free Online Casinos
Online casino scams operate in different ways, but they always try to do it under the guise of a fair business. They'll not just steal your money or deny your withdrawal for no reason; these casinos will actually come up with a legitimate-sounding reason why you can't have your money. These are the red flags found in nearly all online casino scams:
Unfair/unclear terms and conditions – convoluted rules filled with technicalities that seem very hard to understand and adhere to
Unethical business practices – false promises, misrepresentation, and constant excuses without explanation
Licensing issues – no license or a license issued by a questionable authority; falsely claiming to be licensed by a reputable licensing authority
Sudden account closures – players accounts get closed without explanation or with the casino simply citing breach of rules (usually after a big win)
Constant withdrawal issues – withdrawal delays, postponements, or money being returned to players' accounts (with them being asked to try again)
Deceptive and inconsistent customer support – failure to respond to your requests, constantly changing stories, and no real explanation for your problems
Bonuses with unfair and deceptive requirements – unrealistic wagering requirements, unusually strict and unclear betting rules
How to Spot Online Casino Scams
Since most of online casino scams feature at least one or two of these red flags, and often even more, we'll try to explain each one of them in more detail. This should be very helpful to all players, but especially those new to the world of online gambling, who don't understand how things should work and can't tell the difference between fake and trusted online casinos.
Unfair or Unclear Terms and conditions: These are essential for the operator-client (player) relationship. All online casinos have terms and conditions, and with most legitimate operators these are easy to understand and strike a balance between both parties' rights and obligations. When dealing with a casino trying to scam you, however, these will heavily favour the casino, limiting your playing options, withdrawals, and giving them right to do whatever they want.
Unfair business practices: These can sometimes be hard to recognize at first. Rogue casinos will often promise huge bonuses, great incentives, and more, but will end up paying only a fraction of what was promised or start avoiding you all together when you make a deposit. When questioned about it, they'll try to explain it by "fine print," or quote some other bogus reasons.
Fake or No Licensing: Every casino worth its salt is licensed by a reputable licensing authority. If an online casino you're considering isn't licensed by the likes of the UK Gambling Commission, Malta Gaming Authority or the Kahnawake Gaming Commission, stay away. Some fake online casinos will display a license on their sites, but a quick search can reveal the truth. You can usually check this info with the regulator itself.
Sudden Account Closures: Sudden account closures are another trademark of online casino scams. If a casino you're looking into has many player testimonials describing unexpected and impossible to explain account closures, usually happening after a big win or requesting a withdrawal, the odds are this is another online casino scam. Legit casinos avoid closing their players' accounts without a very serious reason.
Constant Withdrawal Issues: If a casino constantly has withdrawal issues, this is one of the biggest red flags out there. You'll find that rogue casinos will do everything to prevent their players from cashing out, from repeatedly asking for the same documents to lying about the withdrawal being sent to eventually closing down the account.
Poor Customer Support: An online casino customer support team is your communication channel with the casino. With reputable casinos, you'll find the support staff are forthcoming and glad to help in any way they can. With rogue casinos, however, you'll have exactly the opposite: failure to respond, unclear and rude responses, and the agents always pushing you to deposit more.
Unusual Bonus Requirements: Finally, online casino bonuses are one of the main reasons to join online casinos, but if they come with unusually high or very restrictive wagering requirements, you need to be very cautious. These are usually a sign of an online casino scam, where they try to get you to deposit, but then keep your money locked in indefinitely, because you'll never meet the cashout conditions.
Player Testimonials: Real Online Casino Scam Stories
Delay of payment: "The isssue is that I still can't get my $400 after more than 35 days. But another problem is that payment has still not been approved, even though I already sent the verification documents twice. Such a big delay in the payment of money is contrary to the conditions and policies of the casino itself." (Captain Jack Casino)
Convoluted T&Cs: "I tried to withdraw $2,000 this month and I received an email that the withdrawal was not approved and that I should contact support. I did this and was told that I can't withdraw because I haven't deposited money in 3 months. I then asked where in the terms it states that I have to deposit within 3 months time in order to withdraw money. I was told it's in "section 6.1". This wasn't exactly what the T&Cs stated, but the casino seems to be trying to interpret things the way they want." (Casino Sieger)
Unclear and false bonus claims: "The casino advertised $100 max cashout for their no deposit bonus. I opened an account there on February 25, 2017 and started playing. I managed to fulfill the wagering requirements and climbed up to more than $300. After a few days, my withdrawal was declined and the balance was reduced to $5! They then told me I have to deposit $50 for a withdrawal. So the total withdrawal was $100, but only $50 of that were actually winnings." (OrientExpress Casino)
Avoiding Online Casino Scams
Even though you know how most online casino scams work, are aware of the common red flags, and have real-life examples of suspicious behaviour by several casinos, you might still be unsure how to avoid being scammed.
Although there is no certain way to do it, especially with new operators appearing all the time, one good way to go about choosing your casino is first research whatever you can about the casino. This verifying licensing information, reading players' reviews and checking out for seals of approval by reputable sites.
Apart from the usual licenses, legit online casinos will usually display seals of approval by independent auditing agencies like ECOGRA or iTech Labs. Being verified by these organizations means the casino probably provides a safe and fair gaming environment and they'll not try to scam you out of your money.
Another good practice is to register with the casino and contact their customer support prior to depositing any money. Ask them any questions you might be unclear about and carefully examine their responses. Good casinos will make sure to tell you everything you need to know; those looking to scam you will usually just try to get you to deposit, mostly disregarding any other questions you may have.
Finally, if you don't have time to do the research yourself, which is understandable, you can simply refer to our list and choose a trusted online casino. We've done the footwork for you, and the casinos that made it onto our list are safe, reliable, and fair. With these operators, you can deposit and play as much as you like, knowing full well that your money always belongs to you and that you'll be able to withdraw any or all of it whenever you feel like it!
FAQs
Are online casinos rigged?

Anyone who has had an unlucky day at a casino might have felt that they were cheated by the casino itself. While players know that traditional casinos are regulated and monitored businesses, when it comes to online casinos, you can never know if a particular casino is trying to rob you. All regulated and reliable online casinos use independently verified RNGs, Random Number Generators, which ensure that the games are fair and that the casino has no advantage over the player other than the inherent one.

Which companies make sure online casinos are fair?

eCOGRA is a London-based international agency that audits casino software. eCOGRA stands for eCommerce Online Gaming Regulations and Assurance, and is a globally recognized organization that makes sure online gaming is fair. They protect players, payments, and also deal with underage gambling. Casinos with eCOGRA seals of approval are definitely a safe place to put your money.