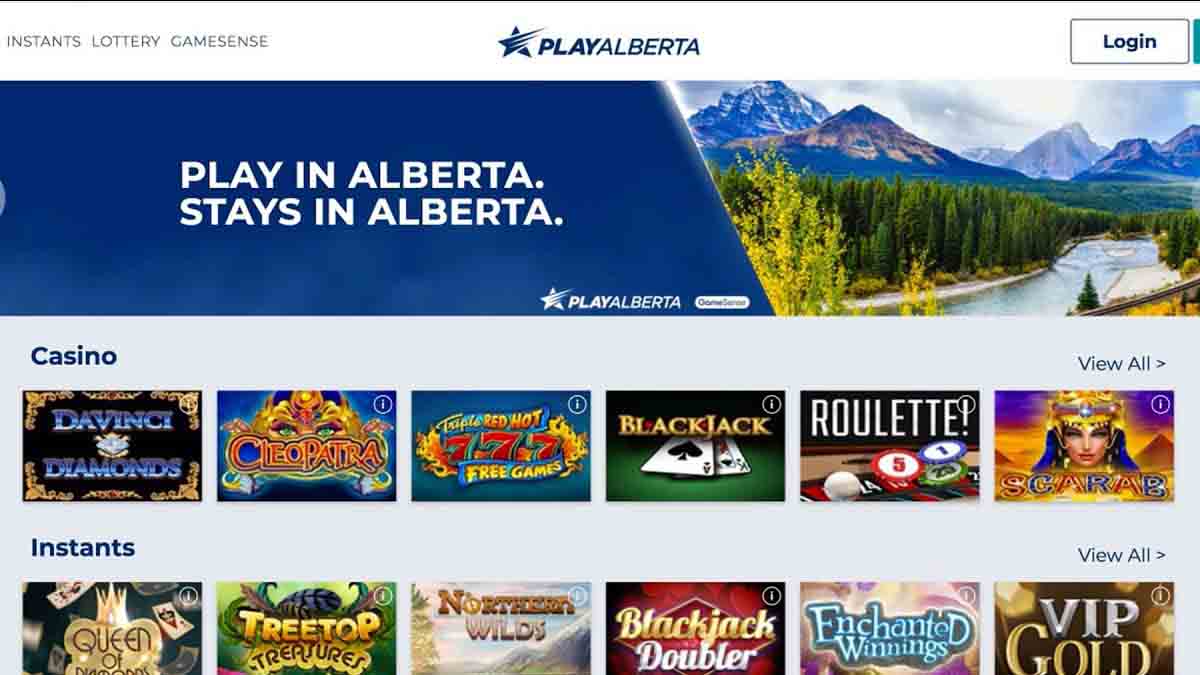 New Play Alberta Online Casino Proves Huge Success
Online gambling has become extremely popular over the last few years with many countries already taking advantage of the profits. Many governments have been keen to capitalize on the tax revenue that came with its legalization. More and more provinces are jumping on the bandwagon, including Alberta.
This is where Play Alberta came to life, and it's run by the AGLC, the Alberta Gaming, Liquor, and Cannabis Commission. Powered by NeoPollard Interactive, it's the first online casino to legally operate within the region and it's something that many have wanted for a long time. The addition of this platform in the province means that there will likely be more online casino platforms that are offered to players.
However, there's a lot that Play Alberta online casino could capitalize on before bigger fish come to the party, as the online casino industry is currently monopolized by offshore providers. In this segment, we'll be taking a look at what the casino has been offering players since its inception and if sports betting will be permitted at the casino too.
Four Months and Going Strong
Play Alberta is described as a socially responsible, safe, and reliable online casino in Canada and can be joined by anyone 18 and over. The site also has a strong verification process, which means that there's no way for players to lie about their age or who they are. The physical aspect of the online casino is based within the province of Alberta and this ensures that revenue generated in the region stays there.
The AGLC anticipates that Play Alberta will generate annual revenue of $3.7 million and this will go toward the general revenue fund of the province. As expected, the additional tax revenue generated from the online casino will go toward the people, making life better for the citizens of Alberta. This means that an increase in the quality of education, social welfare, and basic infrastructure can be expected.
However, not everyone is happy with the casino, as critics have stated that online gambling is too accessible to young people, as well as those that are prone to addiction. Luckily, all concerns have been laid to rest as the AGLC has stated that Play Alberta has set the necessary precautions with programs such as GameSense, which will notify the casino of any unhealthy gambling habits and it's also possible to set time limits to prevent spending too much time gambling.
What Does it Offer?
Since the site was launched and made available to the public, it has offered players a variety of games in different categories such as table games (Blackjack, Roulette, Baccarat, etc.), virtual slots, and many more are expected to be added to the coming months. The casino also offers online access to various provincial lotteries, which is another area that will be expanded upon.
According to officials, the site is not expected to take away any of the business that would generally go to land casinos, but is rather meant to reduce the number of illegal gambling activities happening in the province, and the illegal profits that result. The move to legalize online gambling has been in the works since 2015 and it's exciting to see what will come next for the province regarding this aspect of the industry.
Since June 2020, a seven-year contract has been in effect with NeoPollard Interactive to maintain and build the regulated, legal, age-controlled, and secure online gambling platform.
A Proposition for Sports Betting
Sports betting is becoming just as popular as online gaming and Albertans might be able to legally partake in it very soon. Bills C-218 and C-13 were introduced by Parliament recently, which would allow players 18 and over to betting in single-event sporting events. This notion has been supported by the AGLC as well and would allow Play Alberta to expand. This is set to generate more revenue for the General Revenue Fund.
According to the AGLC the fund generated over $1.4 billion in net gaming revenue from 2019 to 2020. One of the main reasons why sports betting is set to be added to the province is due to millions being lost at to offshore gambling sites. The AGLC has supported modern gambling laws and this will also allow the citizens of Alberta to have unique sports betting options on their favorite sports. With players set to receive greater odds and picking between various markets such as the point spread or the outcome of the game, it seems to be an exciting period where many will be able to benefit from this new addition to the betting industry.
To see all iGaming options available to Canadians, see our reviews!