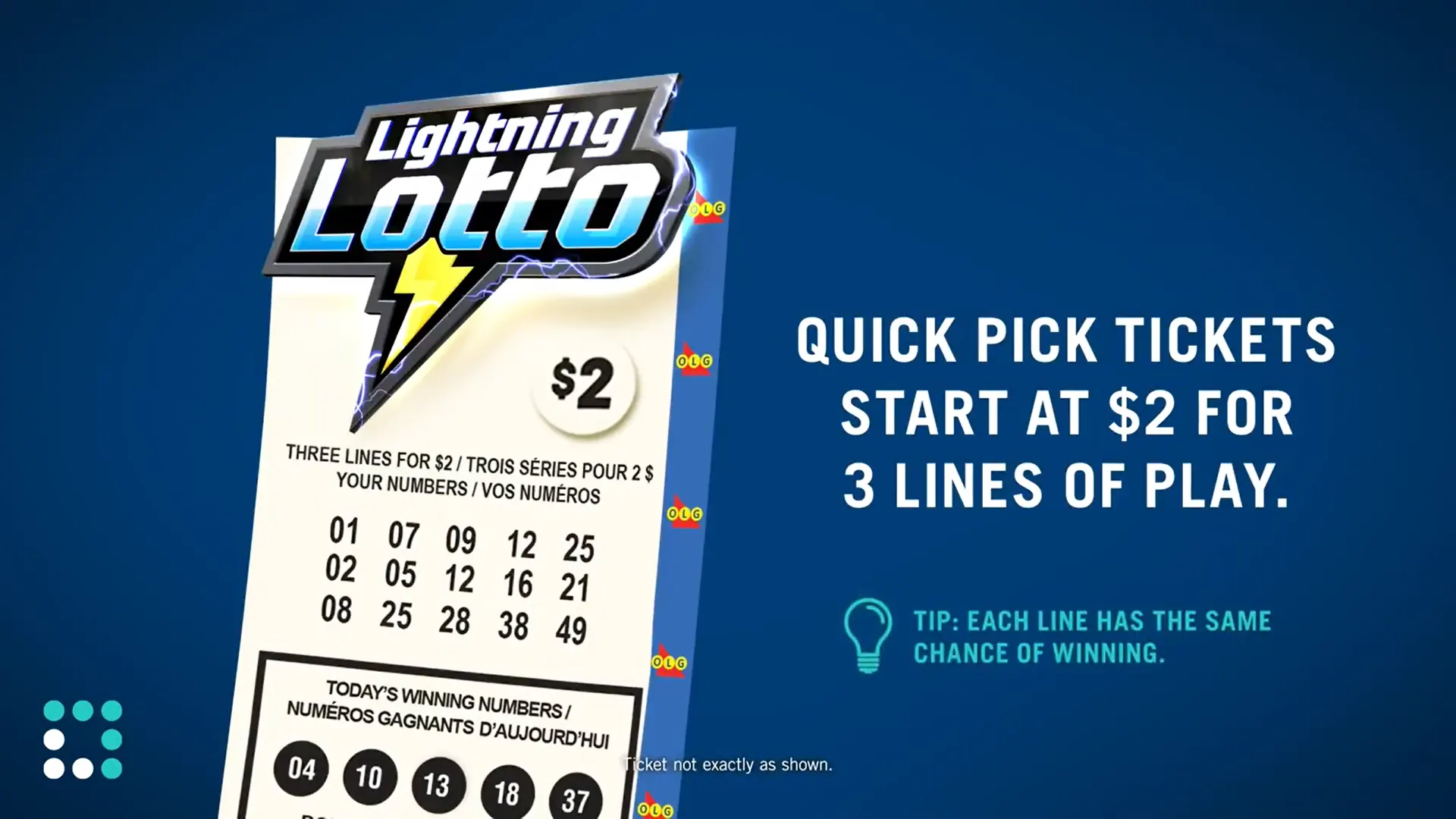 A Guide to Lightning Lotto
Lightning Lotto is a lottery game from the Ontario Lottery and Gaming Commission available for play at OLG retailers throughout Ontario. The game involves players attempting to match five drawn numbers to win a jackpot.
Lightning Lotto is different from other lottery games because the OLG will draw the winning numbers for Lightning Lotto at the start of the day. All tickets are also quick-pick entries.
Lightning Lotto is exciting because it lets people play a lottery game without a selection slip or waiting for a drawing. It also offers a progressive jackpot that keeps growing until someone wins it.
How Lightning Lotto Works
Lightning Lotto works like a lottery in reverse. Instead of waiting for a draw, you'll acquire a ticket with a series of numbers and instantly compare them to the numbers the OLG drew earlier in the day. You'll win a prize if you can match any of the winning numbers.
The game uses a progressive jackpot that starts at $125,000. The jackpot keeps growing until someone matches all five winning numbers.
How Are the Numbers Drawn?
A critical part of how Lightning Lotto works involves how the OLG draws the numbers. The OLG uses a random number generator program to pick five numbers from 1 to 49. A sixth number called the Bonus is also drawn at the end.
The Lightning Lotto draw time occurs before tickets start selling for the day. Ticket sales start at 3:30 a.m. Wednesdays to Mondays and 5:30 a.m. on Tuesdays. Sales end at 11:58 p.m. each day.
How to Play Lightning Lotto
The steps for how to play Lightning Lotto are as follows:
Request a Lightning Lotto ticket from your lottery retailer.
Pay $2 to your lottery retailer. You can spend up to $10 at a time for five plays on the same ticket.
You will get three lines with five numbers each for every $2 you spend. The lottery retail machine selects all numbers from 1 to 49 at random through a quick pick mechanism, so you won't be able to choose your numbers.
Review the numbers on each line and compare them with the five winning numbers and the Bonus number. Each line is played separately, and some numbers may repeat on multiple lines on the same ticket.
You will win a prize if you can match at least two numbers on any of the three lines.
Winning Lightning Lotto
You will win a Lightning Lotto game if you match at least two numbers on a five-number line. There are five ways of winning Lightning Lotto, with these ranging from the most likely way to win to the toughest one:
Match two numbers
Match three numbers
Match four of the original five numbers
Match four of those original five numbers and the Bonus number
Match all five original numbers
The OLG lists the odds of winning any prize at 1 in 4.47. The odds of hitting the jackpot are 1 in 635,628.
Lightning Lotto Payouts
The Lightning Lotto payouts are as follows:
| How Many Numbers You Match | Payout |
| --- | --- |
| 5 | Jackpot (at least $125,000) |
| 4 plus the Bonus | $5,000 |
| 4 without the Bonus | $250 |
| 3 | $7 |
| 2 | $2 |
How High Can the Jackpot Be?
The Lightning Lotto payouts are appealing, but it's the jackpot that everyone is always aiming to get. Someone will win the jackpot randomly, as all numbers in a Lightning Lotto draw are chosen at random. Jackpots can potentially rise to at least $500,000 before someone wins.
How Do You Claim Your Prize?
Have you played Lightning Lotto and won something? If so, you can claim your Lightning Lotto prize with ease.
The measure for how to collect your lightning Lotto payout will vary over how much money you won:
| How Much Money You Won | How To Collect Your Payout |
| --- | --- |
| Less than $1,000 | Visit your local OLG retailer. You can redeem your ticket at the same place where you bought it. |
| $1,000 to $49,999.90 | Submit your claim on the OLG website at olg.ca or mail your ticket to the OLG Mail-In Prize Centre in Toronto. |
| $50,000 or more | Contact the OLG Support Centre to schedule an appointment to pick up your winnings at the OLG Prize Centre on Dundas Street West in Toronto. |
As of September 2022, the OLG requires anyone who visits an OLG Prize Centre to schedule an appointment for a visit.
A Final Word
Lightning Lotto is one of the most exciting games you can play in Ontario today. This game works like a lottery draw in reverse, as you'll compare the numbers you receive to a drawing that occurred earlier in the day. The game offers an exciting progressive jackpot with no limit to how high it can grow.