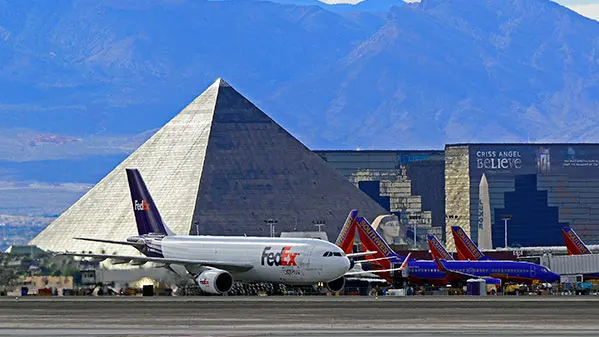 The Founder Of FedEx Once Saved The Company By Gambling In Vegas
FedEx, the world's first overnight delivery company, transports over 1.2 billion packages each year in more than 220 countries. Still, in the beginning, the company's founder was so fraught that he had to depend on casinos and gambling to finance his company.
In 1971, Fred W. Smith took his private fortune of approximately $4 million and made from it an extra $90 million in order to establish his delivery company, FedEx. This is something that could never have been achieved during that time. In 1962, Smith drafted his paper regarding the company's operation when studying at Yale University, which was basically a due economics paper submitted at the last minute.
Unfortunately, 3 years after the business was established, due to the rapidly increasing costs of fuel, FedEx came on the edge of insolvency, losing more than $1 million in just 30 days, with no one agreeing to lend them any extra loans – the investors became hesitant in financing capital.
At this low point of the company and its CEO, all it had was only $5,000 in their reserves, which wasn't even near the amount they needed to continue running their planes. Smith finally turned to General Dynamics for additional funding, but had no luck there.
However, instead of completely losing hope and heading home, Smith collected the $5,000 and made a trip to Vegas where he played Blackjack over the weekend with the company's remaining money. By Monday, to everyone's surprise, FedEx's bank account had $32,000, which was sufficient to finance the fuel charges for the company's delivery planes and also finance its operation just for a couple of days.
When asked by Roger Frock, an ex-senior vice president of operations at FedEx about how he could take such a big risk with the company's money like that, Smith answered that it doesn't make any difference because in absence of the funds, the planes wouldn't have flown and the business was bound to crash anyway.
As luck would have it, only a couple of days were needed before the company finally got back into business again. After a short while, Smith managed to successfully make $11 million to keep his company up and running, and by 1976, FedEx made its very first profit totaling to $3.6 million. After four years, the business's profits shot up to around $40 million and had a total gross income of approximately half a billion. At present day, FedEx reportedly has a net worth of $25 to $35 billion, and Smith has a total net worth of nearly $2 billion himself.
The economics paper that Smith wrote back in 1962 reportedly earned him a C, but little did he know how the same paper would eventually be a framework for his own billion-dollar company. Today, Federal Express is the world's second largest airlines in terms of the aircrafts, with 679 planes to this date along with 49 additional ordered planes.
In addition to that, the company is also the 21st largest political campaign contributor in all of United States, officially donating around $21 million ever since 1990, to different campaigns. Besides that, they also spend millions on government lobbying and other for other political interests each year.
Smith's luck in gambling is an inspiring incident for many novice and even experienced gamblers. Even though the money he pocketed was not enough to solve all the company's problems, it did give it a good kick start. He used the money to acquire more funding, and was finally able to raise the big chunk of $11 million.
Interestingly, FedEx is not the only company that is partially financed by blackjack winnings. PIMCO's founder, Bill Gross, also gambled through that which he was able to put forward his investments.