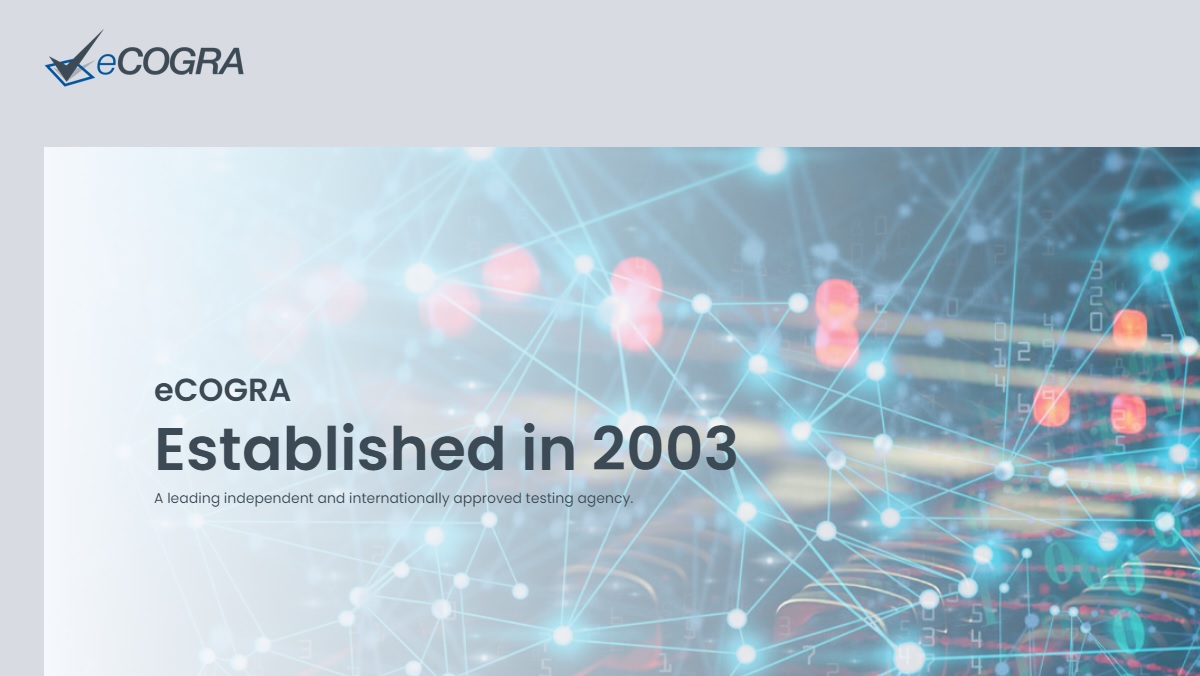 Why Play at eCOGRA Casinos? Safe and Fair
eCOGRA is a renowned UK-based non-profit organization specializing in fair online gambling practices and the protection of players by testing and providing certification to online gambling services. The eCommerce and Online Gaming Regulation company was created in 2003 and became the global leader in self-regulation, assessing the ethics, practices and safety of online casino systems for international approval. The independent organization is a neutral entity without government affiliation or any vested interest in gaming, ensuring the integrity of their audits and the reliability of eCOGRA's Safe and Fair Seal.
This seal is awarded annually to online casinos who passed thorough assessment and were found to conduct fair gambling practices under eCOGRA's Generally Accepted Practices or "eGAP" requirements. eCOGRA also evaluates the development processes and security levels of online gaming sites by assessing software developers separately and awarding them the eCOGRA Certified Software Seal to approve developers' practices under eGAP's regulations. The inimitable testing agency has received the United Kingdom Accreditation Service approval for proficient testing, calibration, inspection and certification, marking the organization as the most trusted source of ethical gambling assessment worldwide. eCOGRA's seal of approval has become essential to maintaining the reputation of safe, reliable and secure online casino and gambling environments for players.
Read More
eCOGRA Certified Casinos
Rank
Casino
Bonus
Visit
Info
1

JackpotCity Canada

$1600

Visit Casino

Fantastic casino with over 400 slots games and a huge $1600 Welcome Bonus

18+. This offer is not available for players residing in Ontario

2

Spin Casino

$1000

Visit Casino

Rebranded from Spin Palace, Spin Casino also freshened up their website making it a top choice for Canadians.

18+. This offer is not available for players residing in Ontario

3

Ruby Fortune

$750

Visit Casino

$750 Welcome Bonus and over 450 top casino games to choose from

18+. This offer is not available for players residing in Ontario
eCogra Certification Process
The process of assessment and certification developers and operators involves lengthy auditing operations covering every aspect of the online casinos, the platform providers and the software suppliers, testing the aspects of these entities against eGAP's remarkably high standards. eCOGRA employs the skills of highly trained professionals, including lawyers, chartered accountants, software experts and certified information systems auditors to determine the eGAP Accreditation of the operator. With this efficient team, eCOGRA uses eGAP requirements to assess the operator.
eGAP enforces responsible gambling, requiring the operator to provide links to a Player Protection and Responsible Gambling page and content addressing the dangers of gambling excessively, relaying the operator's gambling policies, providing helpline numbers, a self-assessment test for risk potential, a list of protection measures and no dishonest material on the operator's support of responsible gambling. The operator is required to clearly display of denominations of each credit and currency units. The player needs to be able to access account history showing wagers, wins, losses, deposits and withdrawals dating back sixty days. The site must supply options to set "cooling off" exclusion periods of at least 24 hours and to set deposit limits. Online casinos need to understand and provide thorough training of employees on responsible gambling practices. The site should have a homepage clearly displaying "No under 18's" or an age restriction set by a regulatory authority as well as a warning about underage play.
Casinos must also secure the implementation of AML and CFT policies, appointing a senior management employee to oversee security measures against money laundering and train employees to identify and report fraud, ensure data protection measures and sustain AML and CFT practices. The casino's services must provide options to protect player data from accidental loss, alteration, unauthorized access or disclosure and unlawful destruction. They must protect the confidentiality of player data and sensitive information and prevent players from registering if their jurisdiction legally permits them from being involved with gambling activities. In terms of casino banking options, the site must also provide clear communication of registration, deposit and withdrawal procedures for the player.
The eGAP requirements are quite extensive but it is worth remembering that eCOGRA is especially thorough in that they investigate the operator and the developers, awarding two types of certificates, one for the software and another for the casino.
Advantages Of "Playing It Safe"
Casinos displaying the eCOGRA's "Safe and Fair" Seal boast an award from a credible reference for a safe and secure gambling environment with honest advertising and responsible gaming behavior. Some of the specific advantages entail:
Ethical gambling practices and random games with no rigging.
Assured protection of your privacy and the safety of your information.
Excellent customer service, support and commitment to player satisfaction.
Fast and easy transactions with varied payment options.
Support, risk-management and systems to protect players from excessive gambling.
Protection against fraud and other criminal behaviour.
An altogether safe environment entertaining fair conduct, legal operations and ethical gambling practices.
You can rest assured that you are not visiting a rogue gambling site when you see the "Play It Safe" logo. If you are still uncertain, the eCOGRA site provides a list of all approved seal holders with links to the online casinos. They also supply a free service to players with grievances towards the approved operators, promising to investigate any disputes adhering to the regulations mentioned on the "Policies and Procedures" page of their website. In other words, when it comes to online gambling, there is no escaping the gaming justice of the eCOGRA stronghold.
eCOGRA and Software Providers
As stated earlier both the operator and the developer undergoes eCOGRA testing to earn a seal, although the software developers and providers are awarded the Certified Software Seal. They are tested on specific aspects, such as the internal controls monitoring financial data and preventing fraud, governing the IT security environment and development. Developers must ensure that the software is constantly implemented and maintained in a safe and reliable manner. The software is required to pass eCOGRA's Total Gaming Transaction Review which evaluates live gaming transactions to ensure fairness and accurate data processed. eCOGRA verifies random games as well as accurate published return rates. The software must provide complete, valid and correct data and player return rates cannot be too low. Software providers need to generate reports on all changes made to game parameters and the development and test environments are to be completely isolated from the live site. All transactions involving player's funds should be recoverable in the case of a system malfunction and all game results must be clearly visible in live studio gaming.
The eCOGRA certification does not just review casinos for a safe and reliable gambling space but it protects the player from every possible malpractice, malfunction – even the player's own misuse. Gambling safely and visit casinos certified by eCOGRA, notorious for giving operators meticulous testing before allowing them to publish the world-famous "Play It Safe" logo.
FAQ
What is eCOGRA?

eCOGRA is a UK-based non-profit organization that specializes in fair online gambling practices and the protection of players. They test and provide certification to online gambling services, ensuring safe and fair gaming experiences.

What does eCOGRA do?

eCOGRA assesses the ethics, practices, and safety of online casino systems for international approval. They certify online casinos that meet their high standards for fair gaming, responsible gambling, player protection, and data security.

Why should I play at eCOGRA casinos?

Playing at eCOGRA casinos ensures that you are in a safe and fair gambling environment. These casinos have been independently audited and certified by eCOGRA, guaranteeing ethical gambling practices, random games, protection of privacy and information, excellent customer service, and secure transactions.

What is the eCOGRA certification process?

The eCOGRA certification process involves a thorough assessment of the online casino's operations, including software providers, internal controls, financial data monitoring, IT security, game fairness, and player protection measures. Highly trained professionals conduct audits to determine eGAP Accreditation.

What are the advantages of playing at eCOGRA casinos?

Playing at eCOGRA casinos offers several advantages, including ethical gambling practices, protection of privacy and information, excellent customer service, fast and easy transactions, responsible gambling support, fraud protection, and a safe and fair gaming environment.

How does eCOGRA ensure fairness in online gambling?

eCOGRA verifies the fairness of games by evaluating random number generators (RNGs) and conducting a Total Gaming Transaction Review to ensure accurate data processing. They also verify published return rates and require software providers to generate reports on game parameter changes.
Read More