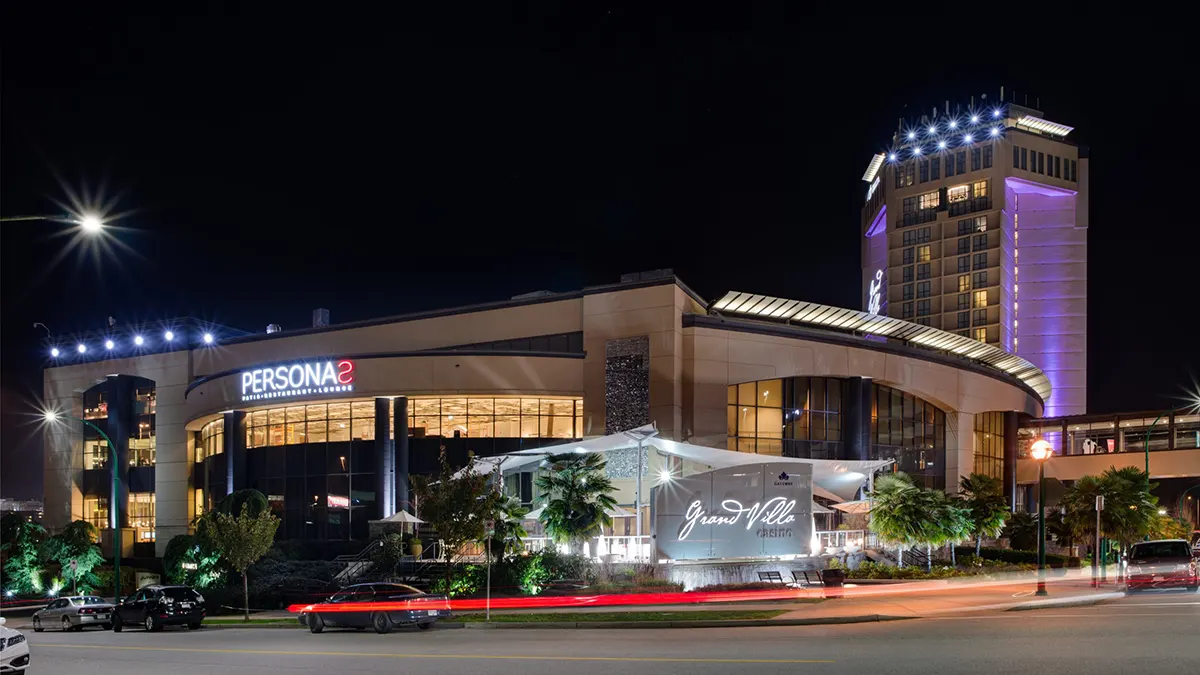 Grand Villa Casino Review
You'll find the Grand Villa Casino, the luxurious flagship property of Gateway Casinos and Entertainment, about 20 minutes from Vancouver in Burnaby, British Columbia. This property recently got a whopping $25 million renovation to enhance the impressive experience in the Lower Mainland. The Grand Villa Casino is the go-to center for mind-blowing gaming experiences. Founded on November 5, 2008, its owners hoped to make it the premier destination for all thrill seekers in the Lower Mainland area.
Sitting on a 300,000 square feet piece of land, the Grand Villa Casino has 1,300 exciting slot machines, 67 table games, and a spacious 12-table poker room plus several VIP rooms to create a thrilling experience.
The 24-hour customer service team at the Grand Villa Casino Hotel and Conference Centre also supports guests who are tired of gaming and need some rest. The team can help guests find cozy and luxurious rooms at the Delta Burnaby Hotel.
About the Casino and Resort Floor
The Grand Villa Casino has an incredible 100,000 square feet of gambling space that will get you thrilled after a long day at work. Equipped with 1,300 of the latest and most modern slot machines, it is a guarantee that you will find whatever you fancy at this venue. The diverse selection of games includes options where you can play for as little as $0.01 a line, or you can enjoy high-roller machines at $1.00a line. Of course, Grand Villa has enough facilities for those who prefer privacy and exclusivity.
VIP Rooms
The VIP section features three exclusive rooms: the Cypress Room, Lions Room, and Maples Room. These rooms enable you to enjoy an unmatched level of comfort, gorgeous views, and a high-level private bar.
The Pulse Arena
Tired of playing slots? The Pulse Arena offers 35 interconnected gaming stations with 27-inch video displays in a stadium-like configuration that enables you to play roulette, baccarat, or blackjack.
This combination of electronic table games and interconnected stations gives a high-energy experience that all casino guests will admire. The Pulse Arena is always on fire since it is open 24/7 with live dealers. Behind the dealers stands a massive video wall broadcasting each game's progress and statistics.
Amenities at the Casino and Resort
The Grand Villa poker room is one of the venue's most popular amenities. The Grand Villa Casino has the largest poker room in British Columbia with 12 tables where you can play Texas Hold em and Omaha games 24 hours a day.
As a Grand Villa Casino poker player, you enjoy many promotions in the poker room. These include the Daily Hand prize, where the winner automatically enters the grand prize finale draw worth C$1000 in cash. The big shark here is the big beat jackpot of up to C$500,000 for all Texas Hold em players. 
Delta Hotel Burnaby
The Grand Villa Casino offers guests who want to stay for the night a taste of luxury at the hotel adjacent to the Casino. The Grand Villa Casino hotel has 200 rooms and suites that accommodate up to 800 guests, plus there are six luxury villas on the top floor.
Every room has quality amenities ranging from king and queen-size beds to working desks, air conditioners, mini-refrigerators, and high-speed Wi-Fi. The hotel has a no-smoking policy, plus it allows up to two pets per guest.
This comfort should not cause you to take your eyes off the fantastic Delta Hotel Burnaby Conference Center. The Grand Villa Casino Hotel & Conference Center is famous for its 12,600-square-feet space, including a 7,500-square-feet ballroom. The venue can adequately host up to 1,000 guests and 12 events. The hotel has a 24/7 business center, sauna, swimming pools, and a gym, providing plenty of options for Grand Villa Casino entertainment. 
Grand Villa Casino Food
The Grand Villa Casino food options you'll find include a diverse array of delicious choices. Whether you prefer the Grand Villa Casino buffet or something a little more traditional, the casino has something for you.
Enjoy unique dining experiences at these places:
The Buffet
Alpina Bar+ Lounge
Personas
Centro Bar
Atlas Steak + Fish
Chow Lucky Noodle Bar
All these places have menus tailored to give you the best foods and beverages that set the pace for hitting the jackpot.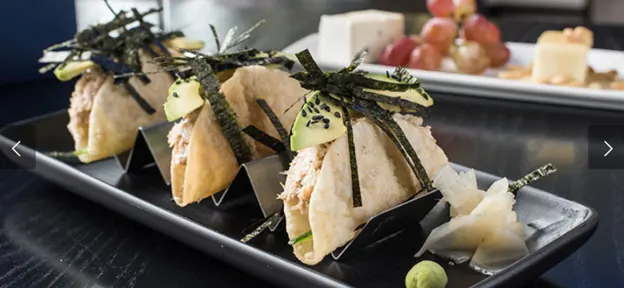 Grand Villa Casino Entertainment & Tournaments
Are you searching for a more exciting pastime? The Grand Villa Casino has you covered with live music that soothes your mind and gets you pumped up for the entertainment experience of your time. Watch live sports games in HD on big screens or dance the night away; the choice is yours. With special events running from Wednesdays to Saturdays, you can interact with the biggest names in the industry, such as DJ Delirious and DJ Dimitri, among others.
Below are some of the prizes you could win:
Happy BC Day
This offer involves progressive hot seat draws of up to $500 in cash at 1:00 pm, 3:00 pm, 5:00 pm, 7:00 pm, and 9:00 pm. No purchase is necessary, and no encore membership is required.
Blazing 7s Blackjack
Explore a new hot take on the classic blackjack game with Blazing 7s Blackjack Progressive. The offer is based on how many 7s you receive in your hands. You can make an additional side bet that starts at only $1. The more 7s you have, the more money you win.
Pump Up the Cash
The Pump Up the Cash offer helps you win up to $5000 Cash with a chance to win a bonus $500 gas card. The event takes place on July 17 & 31, August 14 & 28 at 2:00 pm & 4:00 pm. Instant prizes include Gas for Life, Gas Cards, and Bonus Draw Entries.
Pump it up High-Hand
Win daily high hand prizes for the entire month! Come and play at the Grand Villa Poker room for a chance to "Pump it up" with the high hand of the day.
The daily winner receives a $100 Gas Card plus a $50 gift card at Personas and an entry into the Grand Finale Draw worth $1000 cash on Monday, August 1.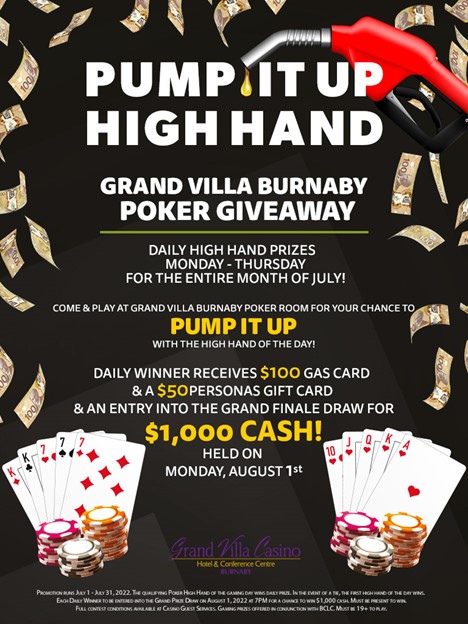 Smarty Pints
Enjoy Smarty Pints every Wednesday at Personas. Participate in the Trivia Night challenge to win.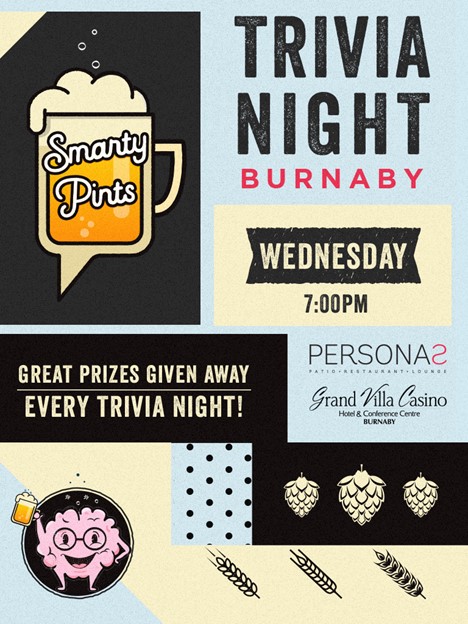 Encore Rewards
Benefits attached to the Grand Villa Encore card
Being a member of the Grand Villa Casino comes with its rewards. Your free Encore Membership card allows you to collect points every time you place a bet or eat Grand Villa Casino food. The free membership card comes with a $10 free play bonus. Earning and redeeming points is as easy as inserting your card into the slot machine.

Every wager you place will help you add to your points. After getting a specified number of points, you will move up to the next level. Each member is eligible for special rewards such as:
Birthday offers.
Invitations to special events and promotions.
Entertainment.
Hotel discounts and exclusive stay packages.
Exclusive contests and events.

Grand Villa Casino Contact Information
Grand Villa Casino FAQS
What Types of Payments Do You Accept?

Grand Villa accept the following types of payment options;

ABM Machines: MasterCard, American Express, Visa or Debit

Cashiering Cages: Visa, MasterCard, Debit or Cash

Hotel: Mastercard, Express or Visa

Restaurants: MasterCard, American Express, Visa, Debit or Cash

Can I Park at the Grand Villa Casino?

Yes, the Grand Villa Casino Parking lot is available to all our guests. Furthermore, the Grand Villa Parking is a complimentary service that ushers you straight into the front door.

What Are the Grand Villa Casino Hours?

The Grand Villa Casino is open 24 hours a day; we never close.

Is There a Dress Code at the Casino?

Can I Purchase Tickets With Points from the Player's Card?

No, you cannot buy tickets using points. Please login to the 'My Club' section on our website to view our latest offers and rewards.
What's Next: More Casinos