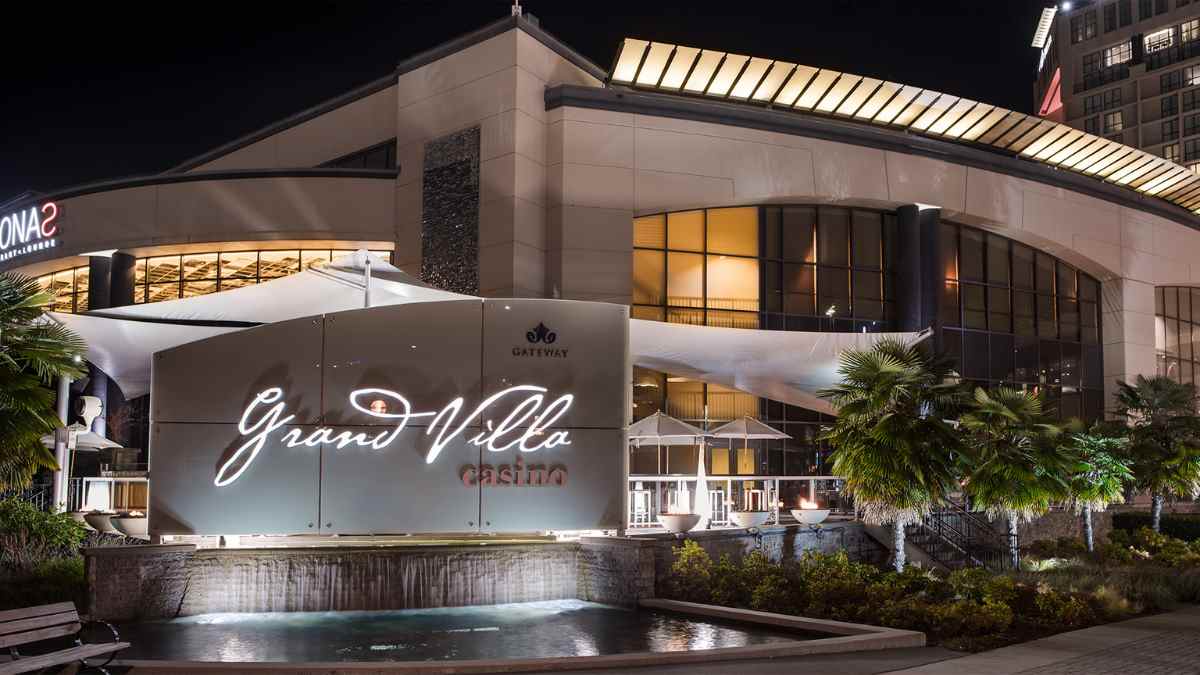 Grand Villa Casino Review
The Grand Villa Casino have everything that you'll need in a casino. With over 1,300 games, private poker rooms, lounges, upmarket restaurants, and bars, with a professional staff, there are very few Canadian casinos that hit the mark as Grand Villa Casino does. If you're looking to get away from the pressures of life and enjoy some time challenging the casino with your favorite games and enjoying the best food and drinks that you can find, then this is where you'll want to be.
The Grand Villa Casino Floor
If you're looking for the best gaming experience in the region, then step onto the casino floor at the Grand Villa Casino. Right off the bat, you'll find over 1300 slots and video slots, all of them ranging from C$0.01 to C$1.00 which means that there's something for everyone, regardless of their budget. Some of the most popular titles include Rays of Egypt, Gold Dragon Xtreme, Money Rain 2, and Prosperity Pig.
If you're after something a bit more exciting and challenging, then take a look at the table game options. Here you'll find a wide range of casino table games such as Squeeze Baccarat, Blackjack, Craps, Fast Action Hold 'em, Ultimate Texas Hold 'em Poker, EZ Baccarat and Craps. The Cypress Room is one of the most exciting places to play high-limit Blackjack and Baccarat, so be sure to check that out.
The Lions Room features high-limit Blackjack and Baccarat, but it's more exclusive than the Cypress Room. The Maple Room is the gold-standard when it comes to exclusivity, and it features a Private Bar area along with a personalized gambling experience. This is the pinnacle of private gaming and only the best are invited to join.
For a more unorthodox gaming experience check out the Pulse Arena. This combines electronic table games, interconnected games, and live dealer games into an extremely immersive and unique experience.
The Amenities at the Grand Villa Casino
The Grand Villa Casino has plenty of things to do apart from gambling, and these will make your stay in the region and at the casino much more memorable.
Burnaby Hotel: The Burnaby Hotel is a minimalistic yet beautiful facility that offers a variety of different suite options such as the Guest Room, the Junior Suite, the Penthouse Suite, the 2 Bedroom Suite, and the 2 Bedroom Penthouse Suite. Rates will vary depending on the time of the year, but it goes without saying that the 2 Bedroom Penthouse Suite is the most expensive option. Each room is air-conditioned, features USB outlets, a mini-fridge, room service, bottled water, coffee maker, and various household appliances.
Atlas Steak and Fish: If you're a fan of Surf 'n Turf then Atlas Steak and Fish is for you. This restaurant uses the best ingredients that are handled by the best chefs to create some of the most mouthwatering dishes imaginable. The ambiance of this eclectic restaurant is tied together with a pianist that's serenading the guests with soft music. Expect to find dishes such as Beef Tenderloin, Tomahawk Steak, Bay Area Cioppino, and Linguini Vongole. If you're looking for the best dining experience, this is one of the best in the region.
Chow Lucky Noodle Bar: Spoil your senses with a trip to Chow Lucky Noodle Bar and experience some of the best wok-style Oriental cooking. These fiery creations are assembled by experienced chefs that have been working with noodles for decades. Try various dishes and appreciate this unique style of cooking.
Centro Bar: Located in the heart of the Grand Villa Casino, Centro Bar is perfectly placed to provide you with the most immersive experience even when you're not on the casino floor. Enjoy a range of light meals and a variety of drinks that are served by entertaining bartenders. Centro Bar is open from 11 am to 2 am from Sunday to Thursday, and from 11 am to 3 am on Friday and Saturday.
Entertainment and Tournaments
The Grand Villa Casino is generally on top of things when it comes to entertainment, as the website displays the events that are taking place within the month. While nothing is happening at the moment, you'll still be allowed to book one of the four venues. This includes the Personas, a bar/lounge area that features plenty of TVs that usually broadcasts pay-per-view events. The Buffet is a classic restaurant that will provide guests with a large assortment of various meals, and is the best choice for family gatherings.
If you're looking for something more sophisticated, the Alpina Bar is excellent for cocktail parties and is large enough to accommodate 62 guests. Currently, no tournaments are being held, so keep an eye on the casino site to see if anything changes.
Contact Info
What's Next: More Casinos