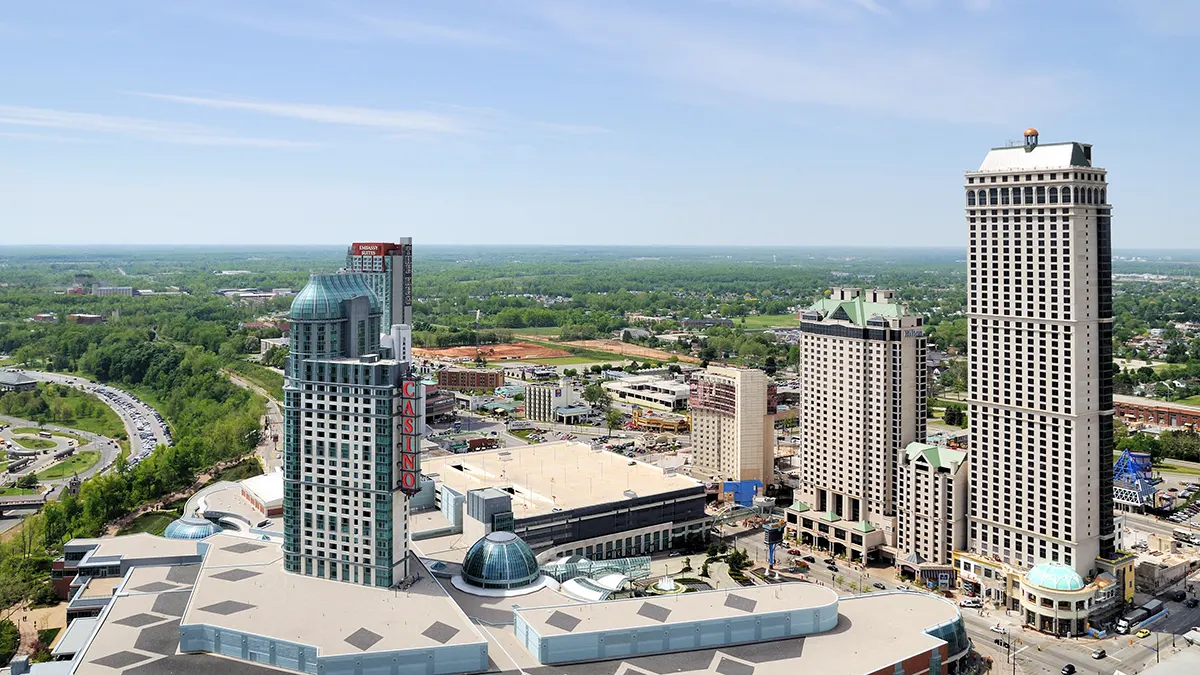 Let's say you are in Niagara Falls, Ontario and you are searching for some fun? – Well, I have the perfect place for you. The Casino Niagara. The beautiful hosts in Ontario will serve you with the right and unique approach. This beautiful building is located at 5705 Falls Ave. Niagara Falls, Ontario, Canada.
It opened the doors to its gamers back on December 9, 1996. Since then, it offers constant excitement standing at the top of Niagara Tourism area. The Government of Ontario owns this casino through OLG. This is short for Ontario Lottery and Gaming Corporation.
The Casino Niagara Floor
The Casino Niagara has the game. Right after you enter the doors of the casino, you look at 95,000 square feet of fun. The excitement in the whole process of searching through the games can't be described with words. You need to feel the spirit of the two-action floors packed with slots, card games, 40 action-packed table games that include Roulette, Poker, Mississippi Stud, Blackjack and more.
Slot players can choose from over 1,300 slot machines that hide their unique character. Did I mention the tournament? – Casino Niagara continually updates their tournament schedule surprising the guests with Buy-in to Specialty Themed tournaments that just add that final touch to the whole excitement and joy.
For the most loyal gamers in the Casino Niagara, there is the Players' Advantage Club. It's the area where you can get the ultimate VIP treatment. As a member of this club, you can enjoy the fantastic benefits and rewards in the form of Cash back, concert tickets, hotel stays, meals, and exclusive chance to get into special events and tournaments. The membership is free.
The Amenities at Casino Niagara
Casino Niagara features four wonderful restaurants for all the guests who got a little bit hungry and thirsty. You can enjoy great and delicious meals in Lucky's Steakhouse, Perks Café, Quench Bar, and The Market Buffet. Take a sit and let the experienced chefs and pleasant to serve you with all the specialties offered by the house. If you are more about getting a drink, the Bars (Corona, Quench, and Chills) are here for a nice beverage. The casino does not have it's own hotel but on either side of it stand the Sheraton and Crowne Plaza.
If you want to spend a quality time and free your mind out of all the challenges in your life, you can relax with a great Rock and Roll live performances every Wednesday. If you are a weekend person, Casino Niagara offers Free Live Music every Friday and Saturday.
My overall thought about the Casino Niagara is not expensive. However, there are some things you need to watch out for. When you sit on the table games, you will notice how the dealer changes every 20 minutes. This seemed like a casino policy at first, but you will feel a strange tension after the third or fourth change. Apparently this was only while I was there as a dealer from Casino Niagara sent me a message that the dealers follow a 60/20 dealer rotation where each dealer completes a 60 minute shift then gets tapped out for a 20 minute break before returning for another hour. I have included the message below to get get some insight into how the dealers work. You will get your free parking if you have the players card, but something happened the second time I went there. Even though I was testing the slot games for an hour or more, when I came out, I was charged for the parking. The prices in the buffets are affordable, and they often offer "Free money" for you to use in the casino.
Entertainment and Tournaments
This casino usually hosts big tournaments, but currently, they have nothing on their schedule. Maybe it's because a part of the casino is under construction. As a part of their 7-million-dollar investment, they are creating a new experience on Level 2, especially for their customers. This redesigned area will become the new favourite destination for sports fans, entertainment seekers, and food lovers. It's a sports-themed restaurant that will give a number one fan the best experience he/she can imagine. You won't miss a game because there will be 80" HD video screen and multiple TVs all over the place.
And that's not it. The new luxurious Poker Room will bring the "A" game for the table gamers. Don't worry. There will be a lounge area, as well.
The Niagara area probably hides a lot of other casinos, but the Niagara Casino is something that attracts the attention with its unique spirit and incredible opportunities. You just need to get in there and see with your own eyes and feel with your senses everything that happens in there.
Contact Info
A message about Casino Niagara dealers from one of our readers
My name is Lenny Burch, I have been a dealer at Niagara Casinos (Fallsview Casino Resort and Casino Niagara) in Niagara Falls, Ontario for 24 years now.

I operate a few Facebook Groups for Casino Associates, and a day ago, I used your website as a reference to some questions.
After which, I took the time to read your website in more detail, especially pertaining to our casinos here in Niagara, and I came across an error in your review of Casino Niagara.
You stated;
"…you will notice how the dealer changes every 20 minutes. This seemed like a casino policy at first…"
That is not the case. As dealers at Niagara Casinos, we follow a 60/20 Dealer Rotation. This means one dealer completes 60 minutes on a table, and a relief dealer taps him out for break for a 20 minute period. And then the first dealer returns for a 60 minute period. This cycle continues for the duration of the shift.
However, you may have been unlucky, and caught a few changes in a row, either for a shift change, taps offs for training, or dealers that got EO's (Early Out's, they chose to go home early).
Or, another possibility is, there are some games that are extrememly difficult on a dealers body. For example, War with a continuous shuffler. Dealing hundreds of hands per hour, with no shuffle breaks is very difficult on dealers, especially older dealers. So sometimes, they choose to "Rubber Band" that table with two easier games. This means that the 4 dealers that make up a break rotation switch between those 3 tables every 20 minutes while one is on break. That way no one has to deal the War table for more than 20 minutes. So you may have been playing the War Table, The 3 Card Poker, or the 4 Card Poker which are the 3 tables most commonly used in the Rubber Band.
Hope that explains the situation, but it is definitely not casino policy to change the dealer every 20 minutes. Also, since Niagara Casinos does not burn cards, and uses Continuious Shufflers on most tables, changing the dealer has absolutely no mathematical impact on the games, but it does impact the mood of the table,
Lenny Burch
Niagara Casinos Croupier
What's Next: More Casinos
View all Casinos in Canada