Joker Poker Power Poker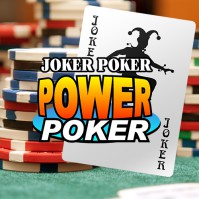 Joker Poker Power Poker is another great video poker option available in Microgaming's superb Power Video Poker series. The game is ideal for Canadian players who wish to try something new in our recommended online Canadian casinos other than slots. Joker Poker Power Poker is easy to learn and presents more of a challenge than conventional slots are able to, whilst at the same time offering a more accessible platform compared to regular online poker.
The basic gameplay found in Joker Poker Power Poker has been around for quite some time and is one of the most accessible of all online video poker games, one of the reasons why Canucks love the game so much. Now Microgaming have taken this popular video poker variation to the next level by adding a 'power' element to the game, allowing players the ability to play anywhere from four to one hundred hands at the same time.
Gameplay and Rules
As previously mentioned, Joker Poker Power Poker is played with a standard deck of playing cards and all jokers are wild. This means that jokers can substitute for any other card in the deck to make winning hand combinations easier.
As with all video poker games, the round is initiated as soon as a bet is placed which is followed by the first five cards being dealt. This is your opportunity to see which cards can work in a winning hand combination and which cards simply won't do. You then have the opportunity to discard any cards that won't help you to make a wining hand combination. You can drop all five cards or as many as you need to, the choice is up to you.
The game then issues you with a new set of playing cards, as many as you discarded, after pressing the draw button, giving you another opportunity to put together the best possible hand to win. That is it, the next step in the round is the game calculating whether or not you have a winning hand combination and what the value of it is.
The best hand to get in Joker Poker Power Poker is a Royal Flush which pays out five thousand coins.
Joker Poker Power Poker also features a nifty bonus round which gives you the opportunity to double your winnings. Simply press the Double button after a winning hand to initiate the bonus round. The bonus round starts with you getting four face down cards, the dealer then draws another card face up. This is the dealer card and the idea is to pick one of the four face down cards to see if you can beat his card value.
You can also choose not to play the bonus game by simply choosing to press the Collect button which will award you your initial winnings from the regular game round.
Playing Tips
A good playing tip in Joker Poker Power Poker, particularly if you are new to the game, is to select the feature which automatically suggests which cards to hold and which to discard. This is a very useful learning tool and will help you to identify winning combinations quickly.
Advantages & Disadvantages
The main advantage in this game is the Wild joker cards which substitute other cards to make easy winning combinations. The added bonus game can also be a lot of fun but be warned, lose the bonus game and you lose your winnings.
Our Take
Joker Poker Power Poker, like all Microgaming casino video poker games is easy to learn and fun to master. The game contains enough features to make it worth your while and you can play the game in demo mode first at any one of our top Canadian online casinos.
More Video Poker Games