Jacks or Better Power Poker: Gameplay and Rules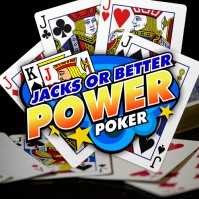 Microgaming have stuck to the tried and trusted formula with Jacks or Better Power Poker and employ a single 52 card deck with a five card initial deal. Players can start a game by placing an initial bet after which the game will deal five cards. You can then decide which cards to keep and which cards to discard. The game will allow you to discard all five cards and will then replace them with new cards, as many as you discarded in the first round.
The idea is to create the best possible poker combination after two rounds of card dealing. As the name of the game suggests, getting a result of jacks or better will receive a winning payout.
Jacks or Better Power Poker also offers a bonus round which can be played directly after a winning round. The bonus round in Jacks or Better Power Poker is called the Double or Nothing Bonus round and accepting the challenge by clicking on 'Yes' will start the round.
The bonus game is designed to be the same across all Microgaming Power Poker video poker games and consists of four down facing cards from which you are required to select one. The dealer card is shown and the idea is to get a card higher than the value of the dealer card. Get it right and you double your winnings.
Playing Tips
Jacks or Better Power Poker is a very easy game to learn to play and, as long as you pay attention to your hand and have a basic understanding of how poker hands are ranked, you can play this game without too much learning involved.
It is a good idea to play a few rounds in demo mode if you are new to video poker games. The game also features an automatic suggestion mode to help you determine which cards to keep and which to discard. Finally, if you want to play for the main Power Jackpot, you need to play every hand at the maximum wager (maximum coins) to be eligible for the 4000 coin payout.
Advantages & Disadvantages
The only slight disadvantage in Jacks or Better Power Poker is that there are no wild cards, unlike Jokers Wild and similar games. This means that there are no substitution cards available to make winning hand combinations easier.
Our Take
Jacks or Better Power Poker from Microgaming takes the popular video poker version to a new level and offers power plays of up to 100 hands as well as a bonus round and a potential jackpot total of 4000 coins. You can play this great Microgamings casino video poker version at any of our leading Microgaming online Canadian casino right now.
More Video Poker Games