Deuces Wild Poker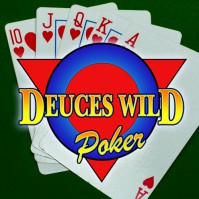 Video Poker is one of the most exciting and fun games and is played by Canadians at online casinos almost as much as slots. There is a very good reason for this, video poker is just as easy to play as slots and requires very little in learning time. The game is favoured by many Canucks due to the fact that a certain amount of strategy comes in to play since the game is based on basic poker hands. This is more interesting and more challenging than regular slots for many players.
Deuces Wild is one of the most popular video poker titles and can be found at a number of our top recommended Canadian online casinos including 32Red Casino. Deuces Wild offers extended gameplay with excellent graphics and fast action with plenty of winning opportunities to be had. Check out the rest of this review on Deuces Wild to see how the game works and more about its unique special features.
Gameplay and Rules
Deuces Wild follows basic poker rules and uses a standard 52 card deck of playing cards. As you will no doubt pick up, each variant of video poker is characterised by certain special features. In the case of Deuces Wild, all the 2 cards (the deuces) are wild and can substitute any other card within the 52 card deck to form faster and easier winning hands.
Learning to play Deuces Wild is very easy and only takes a minute or two to master. The game works on a five card hand after a bet has been placed. Players then have the choice to either hold all five cards, discard all five or some of the cards to receive new cards in their place. This gives a better chance at a winning hand.
The list below shows the various hand combinations that are possible in Deuces Wild:
Three of a Kind
Straight
Flush
Full House
Four of a Kind
Straight Flush
Five of a Kind
Wild Royal Flush
Four Deuces
Natural Royal Flush
The hand combination with the lowest value is the Three of a Kind hand while the highest value hand is the Natural Royal Flush.
Playing Tips
Deuces Wild and all other video poker games are played within a machine and not against a dealer or croupier as it is in blackjack and online roulette. The machine deals the cards and you don't play against other players either.
The idea is to build the strongest hand possible and, once you have placed your bet and pressed deal, you will receive five cards. Unlike slots where the spin result cannot be altered, video poker offers players the chance to use a bit of skill and strategy. A good tip therefore is to learn a bit about different poker hands and their constitution and value.
You can discard any or all cards within your first five to try to make a better hand. It is a good idea to examine your hand carefully in order to determine which cards should stay and which should go. Getting a 2 card (ie: 2 of spades) will also help as this can be used to create an easier winning hand.
Advantages & Disadvantages
There are plenty of advantages to playing Deuces Wild Poker and Canucks that love slots but are looking for something a bit more challenging will love the opportunity to use a bit of poker strategy. The only slight disadvantage to Deuces Wild is that the pay table tends to be a bit tighter than other types of video poker due to the wild card element within the game.
Our Take
Deuces Wild Poker is a fun and easy video poker game to learn and is ideal for Canadian slots fans looking to try something different. The game features great graphics and sounds and plenty of winning opportunities. You can play Deuces Wild Poker at a number of our recommended Canadian online casinos right now.
More Video Poker Games