All American Poker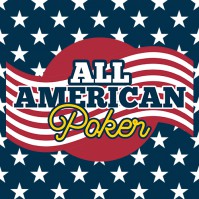 All American Poker is another great variation of online video poker and was first made popular in land-based casinos in the United States, hence the name All American Poker. The game is actually a variation of Jacks or Better and follows the same gameplay and rules more or less.
The game is ideal for slightly more advanced video pokers although beginners can learn the ropes fairly quickly too. It is a good idea to read this article first if you are new to the game or to video poker in general.
Here you can quickly learn about how the game works, how to play and get some great playing tips before trying your luck at any of our recommended Canadian online casinos.
Gameplay and Rules
All American Poker follows the same basic rules and gameplay as Jacks or Better as well as most other forms of video poker. The game uses a single deck of 52 standard playing cards and deals five out in the first round. You then have the option to keep the cards you want and get rid of the cards that don't work.
The game will then replace the cards that you got rid of with new cards dealt from the same deck. You can now make the best possible hand combination based on the games pay table and you can also expect the following payouts for certain hands:
Standard payout = Royal Flush, Three of a Kind, Jacks or Better
Higher payout = Flush, Straight Flush, Straight
Lower payout = Full House, Two Pair
Playing Tips
While All American Poker borrows a lot from Jacks or Better, you may need a slightly different video poker strategy going in. this is because All American Poker offers slightly different payouts on hand combinations and, while you may discard them in Jacks or Better, it is a better idea to keep them intact in All American Poker. If your first round deal does not contain the cards to make a Straight Flush, Royal Flush or Four of a Kind, keep four cards to make a Royal Flush or even a Full House.
Advantages & Disadvantages
Unlike Jacks or Better, All American Poker offers more payout opportunities on various hand combinations and players definitely need to have more of a clear poker strategy to be successful at this video poker game. Another slight disadvantage is that All American Poker pays out somewhat lower on certain hands including Two Pair and Full House.
Our Take
All American Poker is one of the most exciting variations on standard video poker and offers great payout possibilities with a number of card combinations. The game is ideally suited to more experienced video poker players but can be played by beginners as well. You can play All American Poker at most of our best Canadian online casinos for real money or in demo mode.
More Video Poker Games