Multi-Hand Atlantic City Blackjack Gold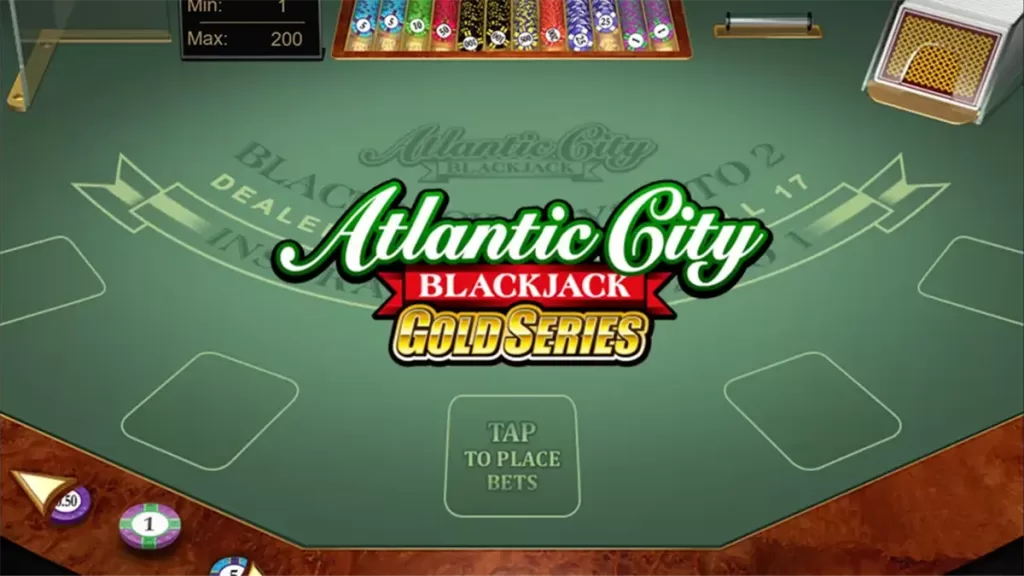 Multi-hand Atlantic City Blackjack Gold Series forms part of Microgaming's incredible Multi-hand Gold Series which includes Multi-hand European Blackjack Gold, Multi-hand Vegas Downtown Blackjack Gold, Multi-hand Vegas Strip Blackjack Gold and Multi-hand Classic Blackjack Gold. All of these fantastic blackjack variations are available at our recommended Canadian online casinos and feature cutting edge graphics and sounds with life-like 3D gameplay that create the most realistic digital casino blackjack experience possible.
Multi-hand Atlantic City Blackjack Gold Series takes one of the most popular single hand variations of blackjack, Atlantic City Blackjack, and takes digital blackjack gaming to the next level. Canadians love playing digital blackjack at our top recommended Canadian-friendly online casinos and now you can experience the ultimate Atlantic City-style of blackjack in multiple hand deals.
Gameplay and Rules
Microgaming have taken the standard version of the popular Atlantic City version of blackjack and given it the Gold Series treatment which includes Gold Series rules and visual effects. Multi-hand Atlantic City Blackjack Gold Series is played with eight full decks of standard playing cards, each with 52 cards per deck. In every round of multi-hand blackjack, players get five hands and each hand can be bet on as per the normal online blackjack rules and gameplay.
There are a great deal of options on each hand open to the player including the ability to surrender any active hand as well as splitting hands with cards that allow for this option.
Playing Tips
With so many decks in the game and five hands per round to consider, there are a lot of options that suddenly become available to you when compared with other versions of blackjack. It is a good idea to brush up on your blackjack rules before attempting Multi-hand Atlantic City Blackjack Gold as well as employing a solid blackjack strategy to keep all your hands that are in play well-organised.
Some hands may be pretty close to winning hands right off the bat while other require a bit more attention. Be sure to examine each hand carefully and weigh up your options accordingly. Remember, you can split, double down or surrender hands to stay ahead in the game.
Advantages & Disadvantages
Multi-hand Atlantic City Blackjack Gold offers a number of advantages and disadvantages. The multi-hand aspect is great for players looking for more action and variety per round over other versions of the game. Plying multi-hand games that have gotten the Microgaming Gold Series treatment is also quite an advantage as the gameplay is enhanced in a number of ways. The game also tends to be more complex with eight decks in play, making the game more suited to experienced players.  So if you are just getting started playing blackjack it would be better to check out the more classic blackjack type games.
Play Multi-Hand Atlantic City Blackjack Gold Series for Real Money
The Multi-Hand Atlantic City Blackjack Gold Series serves life-like 3D gameplay with cutting-edge graphics and an exceptional background score. As the name suggests, the game allows the users to play with multiple decks. Players get 5 hands in every round, and the bet rules stay the same all along.
Okay, but how can you ace it? With so many decks available in the game, countless options are available in the market for comparison.
Are you someone who enjoys action-packed games? Well, if you answered the question with a nod, Multi-hand Atlantic City Blackjack Gold is for you. Learning the game can be a bit more complex as you have to deal with eight decks of cards. Ideal for experienced players, this game is a good choice for option. Go for it if you want to enjoy online casinos in Canada.
Our Take
Microgaming have most certainly upped the ante with their gold series of blackjack games and Multi-hand Atlantic City does very well with Microgaming's enhanced 3D graphics and realistic gameplay. Multi-hand blackjack is ideal for experienced players looking to move to the next level as the eight decks and five hands per round certainly offer a lot in terms of gambling action. You can find Multi-hand Atlantic City Blackjack Gold series at our recommended Microgaming online Canadian casinos right now and you might qualify for the best Microgaming casino bonus of the moment! Also see online casinos in Canada that offer this game and so much more.
See More Blackjack game variations